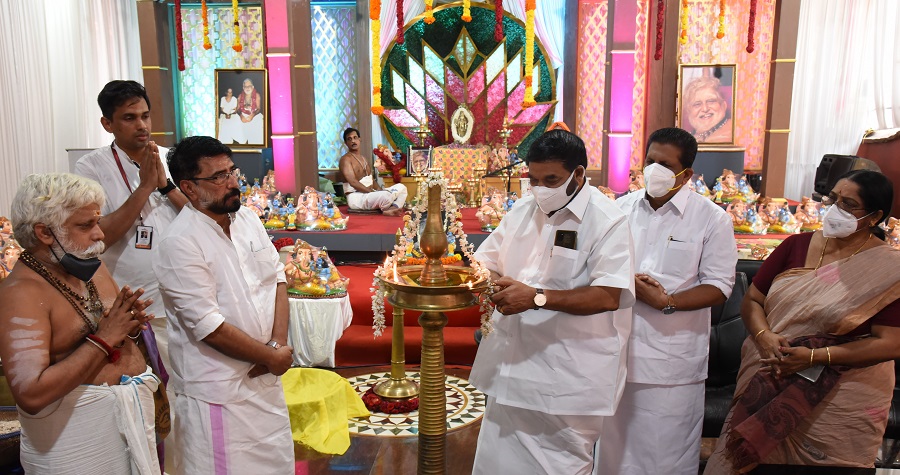 MALLIYOOR:
State Co-operative Registration Minister VN Vasavan on Thursday said that Temples and other places of worship are very important for mankind and believers.
The temple visiting is very salient for the believers. When they were going to the secret places where they were worshiped and found relief from all the mental anguish they were suffering. But now, as in the past, it is not possible to visit the temple for prayers. The Bangalore-based software company's I Prarthana's app provides an opportunity for us to worship every devotee from all over the world without having to go directly to the temple.
The Minister was speaking at the inauguration of the diamond version of the I Prayer app in connection with Malliyoor Mahaganapati Temple.
Mons Joseph MLA unveiled the logo of the I Prayer app. Malliyoor temple majesty and offerings became part of the I prayer. Manjur Grama Panchayat President Komalavalli Raveendran, Brahmashree Malliyoor Parameswaran Namboothiri, Malliyoor Divakaran Namboothiri, I Prayer Officers Manikuttan Namboothiri and Jishnu Narayanan addressed the function held at the temple premises.
Yajnas Brahmashree Venmani Krishnan Namboothiri and Naduvil Math Achutha Bharathi Swamiyar were also present. More than 700 temples in India are part of the I Prayer app, including entire temples under the Zamorin Kovilakam Trust.