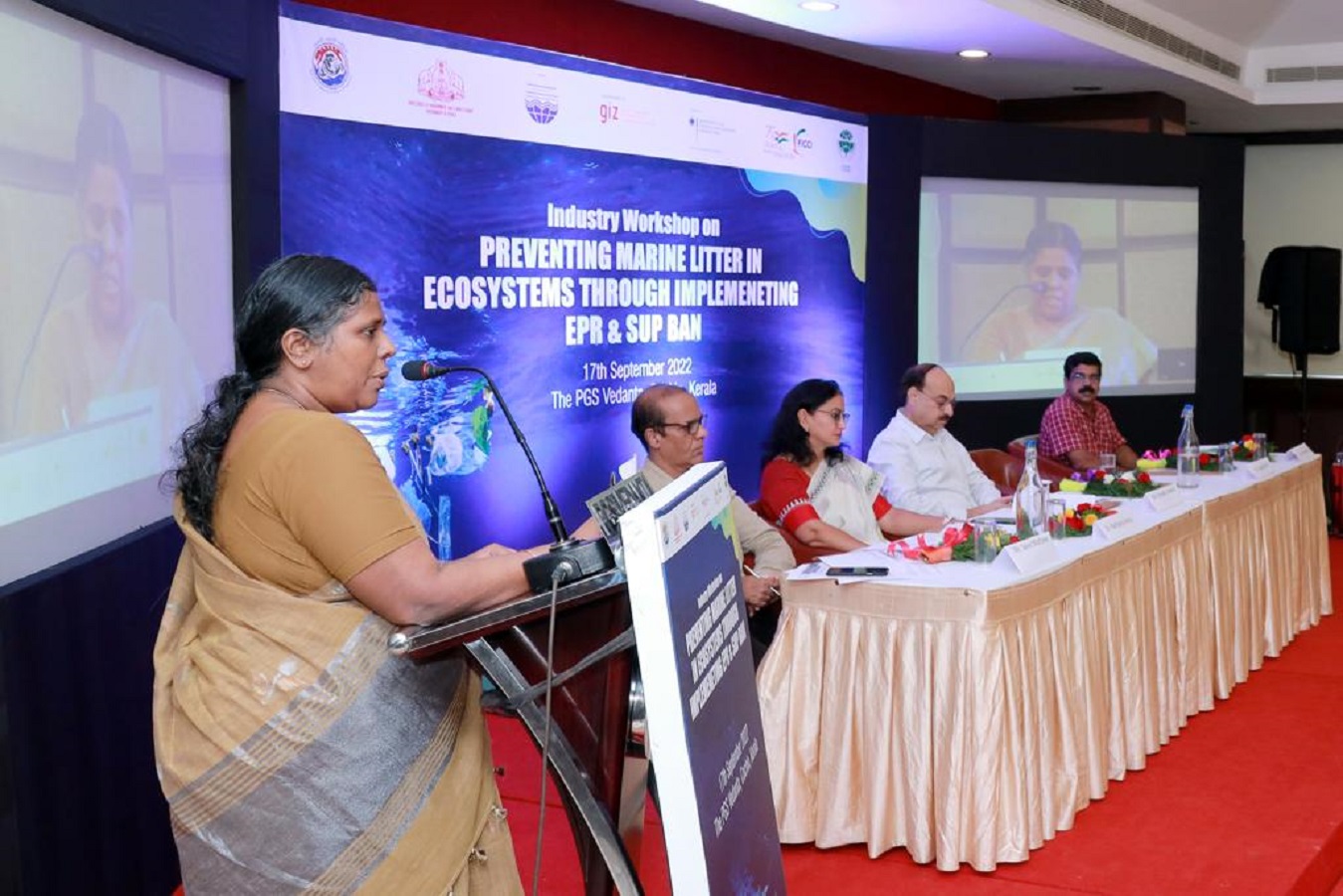 KOCHI:
The Directorate of Environment, & Climate Change, Government of Kerala, Kerala State Pollution Control Board, GIZ India, Federation of Indian Chambers of Commerce & Industry and Centre for Environment Development had jointly organized an Industry workshop on "Preventing marine litter in ecosystems through implementing EPR & SUP ban,".
The workshop is organized under the Indo-German technical corporation project titled "Circular Economy Solutions Preventing Marine Litter in Ecosystems". GIZ India implements the project on behalf of the German Federal Ministry for the Environment, Nature Conservation and Nuclear Safety and Consumer Protection (BMUV) in corporation with the Ministry of Environment, Forest, and Climate Change (MoEFCC), Government of India.
Dr. Rachna Arora, Team Leader, CES project, GIZ India offered the welcome remarks of the workshop. She stressed the upon the need for implementing the current single-use plastic ban as well as Extended Producer Responsibility (EPR) framework for Plastic Packaging. Dr. Arora highlighted the need for incorporating the elements of innovation in the plastic packaging and promoting circular economy for preventing the issue of marine litter.
Kerala State Pollution Control Board Member Secretary Dr. A.M Sheela delivered the inaugural address. Pollution is the other side of industrialization but there are many ways to reduce pollution levels and keep the industry going without harming the environment, she said. Innovative methods should be adopted for sustainable industrial growth in the context of the current single-use plastic ban, she advised.
Efforts should be made for industrial advancement by making more use of technology said Sunil Pamidi, Director, Directorate of Environment, & Climate Change, while delivering the keynote address. Everyone has a responsibility to manage plastic waste. He highlighted on the concept of Extended Producer Responsibility (EPR) to help manage the plastic packaging waste introduced in the market.
Suchitwa Mission Director Mr. G. Jyotish Chandran in his special address mentioned that waste management system should begin from households. Ban on identified single-use plastic items is crucial in fostering an environment-friendly industrial environment, he added. FICCI Kerala State Council Chairman Deepak Aswani and Head Savio Mathew also expressed their key views on managing the issue of marine litter through systemic interventions.
The workshop reviewed the ban on single-use plastic items and also stressed upon implementing EPR models to ensure circularity in plastic value chain. Plastic manufacturers, plastic industry members, waste management stakeholders, local body officials and government agency representatives participated in the workshop.