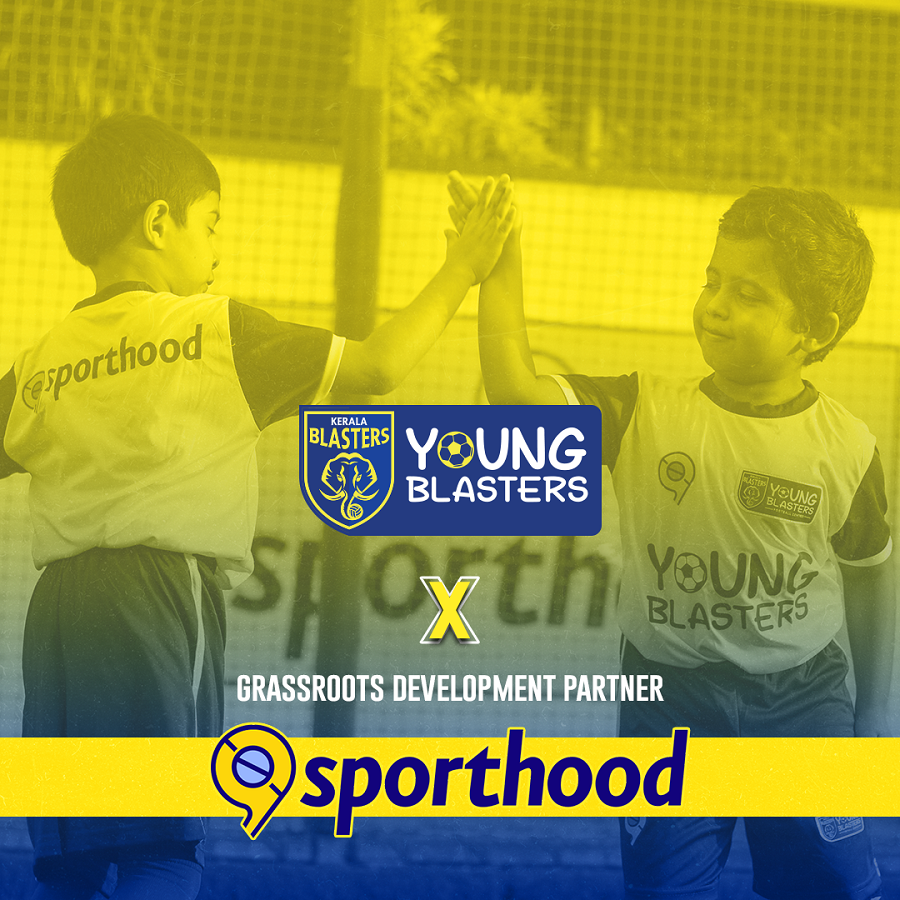 KOCHI:
Young Blasters, a Grassroots and Youth Development Initiative of Kerala Blasters FC is proud to announce a 5-year partnership agreement with Sporthood, India's fastest growing network of Sports Centres, as part of the club's vision to spread the KBFC style of football across Kerala through a standardised, scientific and procedural form of coaching that paves way to a bright career in football.
The Young Blasters program initiated by the club at various academies and centres in Kerala, has been well received by parents and aspiring football enthusiasts, owing to the high standards of training and commitment. Sporthood on the other hand, aims at improving participation among sports enthusiasts using their network and technological expertise that enables aspirants to book virtual coaching sessions or on-ground grassroots and adult football training programs easily through their user friendly website or mobile application.
The partnership aims at combining core strengths of both entities to reach out and provide quality and systematic footballing infrastructure (online and on-ground) to a larger base of young footballing talents (5-15 years) from across multiple districts in Kerala. The program running at potential footballing venues that match the infrastructure requirements will now be termed "Young Blasters – Sporthood Academy", that will impart a KBFC verified performance training curriculum to kids, reviewed and audited by KBFC experts from time to time. During the current situation of the pandemic, the program provides online audio and video coaching assistance to mould budding aspirants to the field.
The promising talents (5-15 years) from the Young Blasters – Sporthood academies, that will be operating across various locations in different districts, will have the opportunity to be promoted to the Young Blasters District Centre of Excellence (CoE), basis their performance through trials conducted by KBFC. The best talents (14+ years) from the Young Blasters District CoE's will then have an opportunity to be scouted to the Young Blasters High Performance Academy (HPA).
The program also aims to organise induction training and certification of new coaches joining the Young Blasters – Sporthood academies and also provide a platform for coaching education to all empanelled coaches on a periodic basis.
"As a club, our core philosophy is to have a team that truly represents Kerala, one of the footballing hubs in Asia to reinforce the legacy of the state towards the sport. Through this partnership we hope to build on the footballing culture of Kerala, by widening our reach, setting standards, providing children with the best quality footballing education, a platform to showcase their talents and an opportunity to learn in a professional football environment. Hopefully the coming years will see players from this program representing the club in the ISL.", says Mohammed Rafik, Director of Football, Kerala Blasters FC.
Sporthood's co-founder, Arun V Nair, elaborated on his company's vision for the same. "We plan to bring in training methods and technological capabilities to complement the curriculum and content that Kerala Blasters has developed for the Young Blasters Program. This cutting-edge solution will bring high quality football training to the young children of Kerala. We plan to onboard as many as 100 new centres in the next 18 months as part of our expansion plan in Kerala. These Sporthood centres will provide children from the respective neighbourhoods direct access into an international standard football training program".