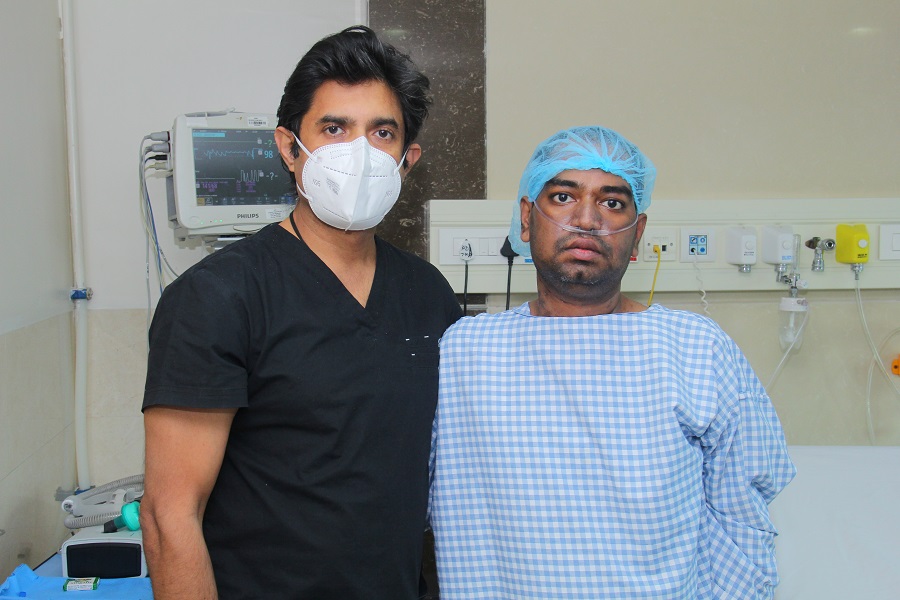 HYDERABAD:
Doctors at the Krishna Institute of Medical Sciences (KIMS), one of India's leading healthcare providers, have successfully performed India's first-ever double lung transplant surgery on a Covid-19+ve patient, who was discharged from the hospital on Friday.
The procedure was performed at the main branch of the hospital located at Hyderabad, and was led by Dr. Sandeep Attawar, who is considered a pioneer in heart and lung transplant surgeries in India.
The patient, a Rizwan (Monu) 32-year-old man from Chandigarh, Punjab, was suffering from sarcoidosis that affected his lungs significantly, leading to fibrosis of the lungs. Condition of the patient deteriorated rapidly. A double lung transplant was the only permanent option for cure. The situation worsened when the patient contracted coronavirus while awaiting for his double lung transplant. This worsened matters as it increased his oxygen requirement from 15 liters/minute to 50 liters/min for the past 8 weeks.
Commenting on the procedure, Dr. Sandeep Attawar, Thoracic Organ Transplantation Surgeon, KIMS Heart & Lung Transplant Institute, KIMS Hospitals said, "The patient was a severe case of lung sarcoidosis, and Covid-19 virus only complicated the precarious lung condition. Fortunately, amatch to his lungs was found in a person declared braindead in Kolkata, and the harvested lungs were airlifted to Hyderabad to save the life of the patient.
The procedure was complex and had little scope for errors; and only a timely transplant of lungs helped save the patient. What is more important is that good outcomes are difficult to achieve as these patients are extremely sick, under nourished and bed ridden before the transplant. Post discharge, he will need close monitoring, bio bubble environment & careful drug control for 6 weeks at least Dr. Sandeep Attawar, is the most experienced heart and lung transplant surgeons in the country. A veteran in the field of transplant surgeries with over 24-years' experience, Dr.Attawar has to date performed over 12,000 heart surgeries, and has over 250 transplant surgeries for lungs, heart, and artificial heart implants (LVAD) to his credit.
The prevailing scenario around the world in general and India is compelling patients to stay indoors for a prolonged period. While people are ignoring/neglecting certain ailments and not seeking medical care at the right time, prolonged neglect could result into complex ailments. Hence, it is suggested that people stay aware of the symptoms of possible ailments they could contract and respond to it with medical care.