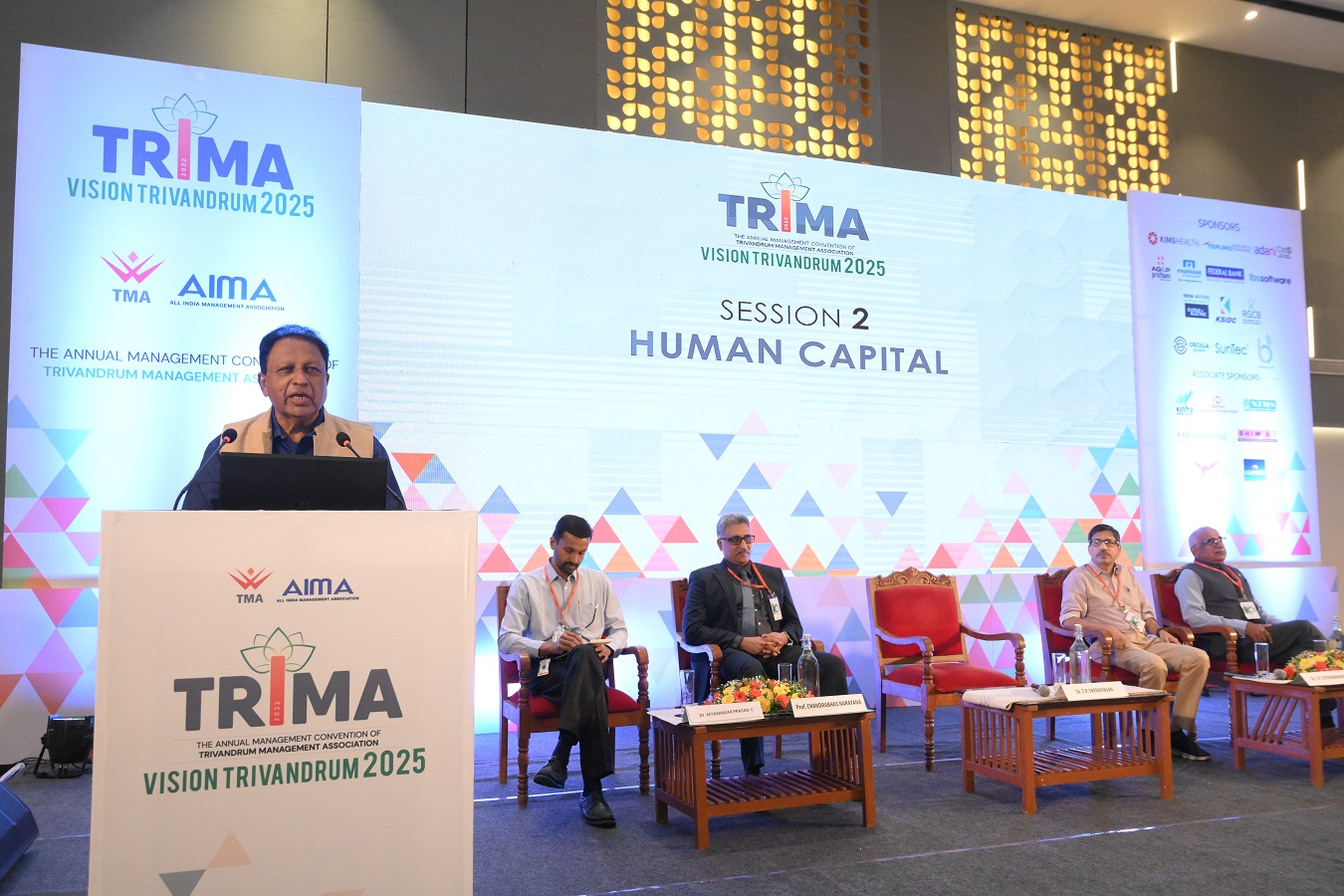 THIRUVANANTHAPURAM:
The conventional role of a teacher as a mere educator has undergone phenomenal changes now, experts at a seminar said here today, and made a strong case for them to focus on skill upgradation and employability of students, besides honing their own skills to stay relevant.
Participating in the seminar on 'Human Capital' on the concluding day of the two-day annual management convention of Trivandrum Management Association (TMA), TRIMA-2022, they said development of communication and technical skills is vital, and the role of teachers as facilitators has become paramount.
Former Ambassador of India and Governor for India of the IAEA, Dr TP Sreenivasan, who moderated the session, said training of teachers is inadequate and they need to be convinced that what they learnt is not relevant today.
He said in order to attract foreign students to the state capital, there is an imperative need to develop infrastructure and technology, besides providing adequate training for teachers to improve their skills. While pitching for granting more autonomy to educational institutions, Dr Sreenivasan said they should be liberated from the stranglehold of universities. The former Ambassador also cited the importance of conducting international interactions for students as well as teachers.
"We have to create a good system for research, which would bring out new knowledge," he added.
In his keynote address, Vice Admiral (Retd) B Kannan, Ex Indian Navy and former CEO & MD, L&T Shipbuilding Ltd.,gave emphasis on knowledge that can make an impact on individual and organisational levels. According to him, human capital is the key driver in economic growth while skills, knowledge and experience have to be put together in right proportion for a better outcome.
Dr TP Sethumadhavan, Director, Products, R&D, SkillFavs, said the role of teachers is to impart skills, knowledge and attitude along with ensuring mental health of students. "Teachers have to improve the employability of student. They have to try to inculcate employability through appropriate skilling interventions, which is the need of the hour," he said.
Prof Chandrabhas Narayana, Director, RGCB, said it is a fact that employability of students is dependent on their academic as well as technical skills. Dr Jayasankar Prasad C, Director, DCSMAT Group of Institutions, spoke about the importance of developing management skills.
In the first technical session on 'Sustainable Development,' held on the inaugural day, KR Jyothilal, Principal Secretary, Transport, Govt. of Kerala, said city planning is one of the key things for increasing productivity.
In order to reduce congestion, urban plan and transport plan have to be integrated, he said, adding that carbon neutrality is vital and a shift from carbon emission to hydrogen is going to come in the state.
Dr Anil Balakrishnan, Head, CSR, Adani Vizhinjam Port Pvt Ltd., said the CSR arm of a firm has now become the sustainable part of any company for connecting with communities.
"Sustainable development has three major factors, which comprise environment, society and economy.From the perspective of community, having easy access to education, health, livelihood, employment and basic facilities make a project more sustainable," he opined.
Vineeta Hariharan, Chief-Externally Aided Missions, Ministry of MSMEs, New Delhi, said for local economic development, it is important to identify one particular product in every district and invite NRIs to invest in their own villages to take the product to the next level of the MSME space.
Ranjith Ramakrishnan, Vice President and Regional Head, AG&P Pratham,said his firm is doing 13 infrastructure projects for Kerala, including the project of transporting LCNG (Liquid to Compressed Natural Gas) from Kochi to Kochuveli for supplying it in the state capital. G Vijayaraghavan, Former Member, Kerala State Planning Board, was the moderator.
TMA is a premier management association in the country affiliated to New Delhi-based All India Management Association (AIMA).