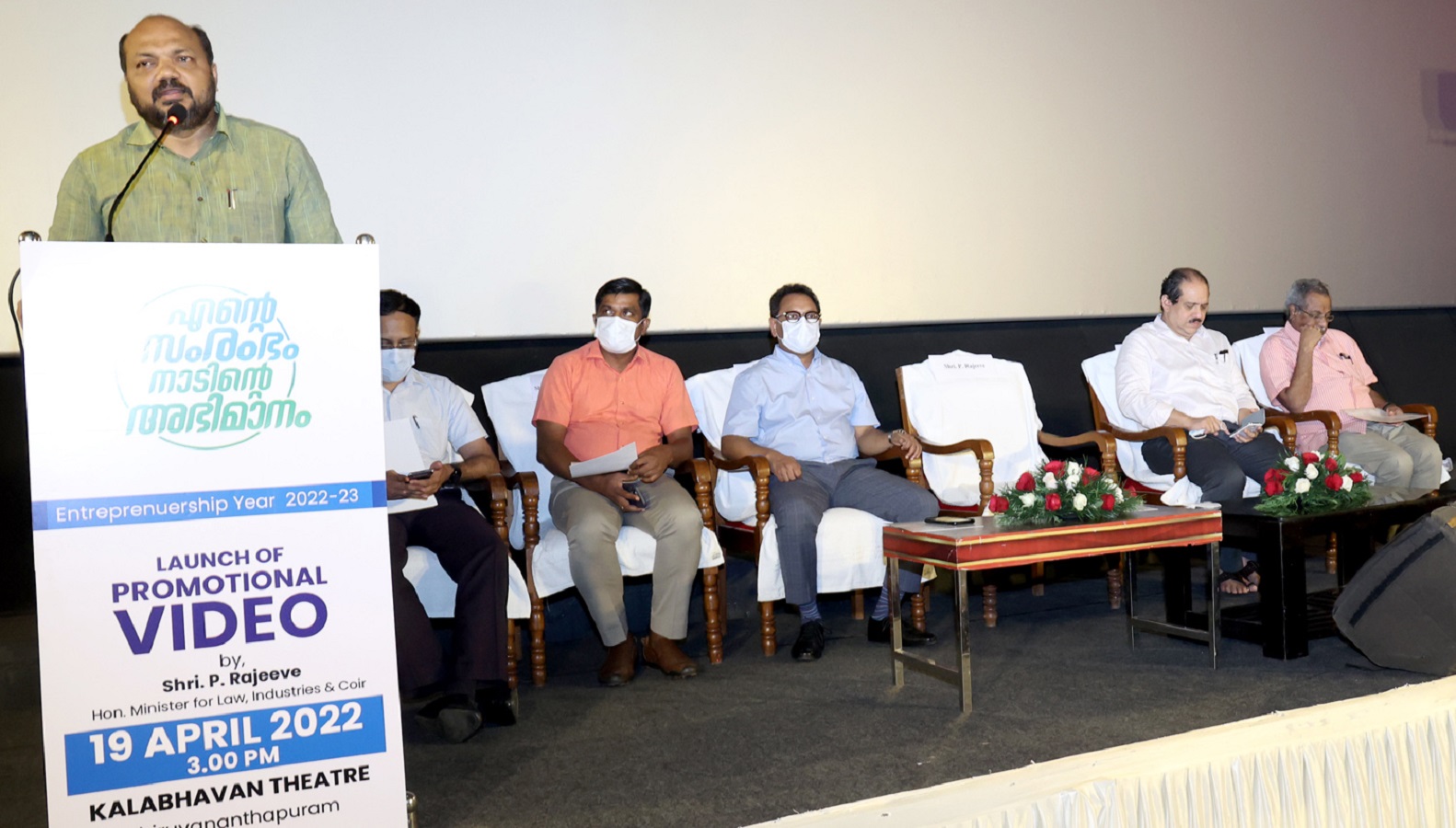 THIRUVANANTHAPURAM:
The state government is working to set up exclusive shops that sell 'Made in Kerala' products in all panchayats on the lines of supermarket chains, Minister for Industries, Law, and Coir, P Rajeeve said today.
These shops will sell government-certified products, he said after launching the first of five promotional videos of an ongoing social media campaign to create 100,000 MSMEs (micro, small and medium enterprises) in the state during the current fiscal that is being observed as the 'Entrepreneurship Year'.
The 2022-23 scheme is being implemented by the state's Department of Industries and Commerce in collaboration with various departments and agencies, the Minister revealed at the function here presided over by Department of Industries-NORKA Principal Secretary Suman Billa.
Around Rs 120 crore has been allotted for the implementation of the MSME project, which bears the motto 'Ente Samrambham Nadinte Abhimanam' (My Venture, Pride of My Country).
At the event organised in Kalabhavan Theatre by Kerala Bureau of Industrial Promotion (K-bip) for the state's Department of Industries and Commerce, Rajeeve said the government will strengthen the networking and marketing for the sale of Kerala-brand products. He underscored the need for a change in the public perception about entrepreneurship.
"The Department of Industries and Commerce will achieve the target of 100,000 MSMEs in one year with exemplary support from the departments of Agriculture, Animal Husbandry and Tourism besides local self-government institutions (LSGIs)," he explained. "As many as 1,175 interns have been deployed for the smooth functioning of the project. They will be provided training from April 21-26, before assigning targets."
The Minister suggested officials to look for entrepreneurs and reach out to them, instead of making entrepreneurs approach the government for benefits.
Rajeeve also unveiled a newsletter of the Kerala State Industrial Development Corporation Ltd.
Billa, noting that this initiative was "very critical" for Kerala, said the most developed economies in Europe had up to 65 per cent of the industrial GDP coming from small and medium-sized enterprises.
"What we need to focus on is to see as to how we can create a cluster-based approach, where we can have several industries that are co-located in a geographical area. But they must be able to work in concert and create world-class products," he pointed out. "The idea is to see as to how we can reverse the trend by transforming the state into a place where jobs are created instead of a place of jobseekers."
The ongoing campaign is about changing the way an average Keralite thinks and thus unleash entrepreneurial spirit among people, he added.
Department of Industries and Commerce Principal Secretary A P M Mohammed Hanish said in his keynote address that far-sighted vision, planning and a favourable milieu can boost entrepreneurship.
Others present at the function were Department of Industries and Commerce Director S Harikishore, KSIDC Managing Director M.G. Rajamanickam, Department of Industries and Commerce Additional Director K. Sudhir and Kerala State Film Development Corporation (KSFDC) Chairman Shaji N. Karun.
The first short video, which was prepared by the Department of Industries and Commerce, encapsulates the workshops being conducted by the department in all panchayats during April and May. Actor Navas Vallikkunnu of the 'Sudani From Nigeria' fame, figures in this 90-second clip.
The upcoming videos will feature various topics related to the initiative. The short videos will also be screened at KSFDC-run cinemas to create awareness among people about the enterprise project.
As the first phase, one-day workshops will be conducted in all LSGIs this month and next, to create awareness among aspiring entrepreneurs. This will be followed by licence/loan/subsidy fairs that will be conducted in LSGIs for those who are willing to start entrepreneurship. The scheme aims to achieve the target of 100,000 MSMEs between April 1 this year and March 31, 2023.