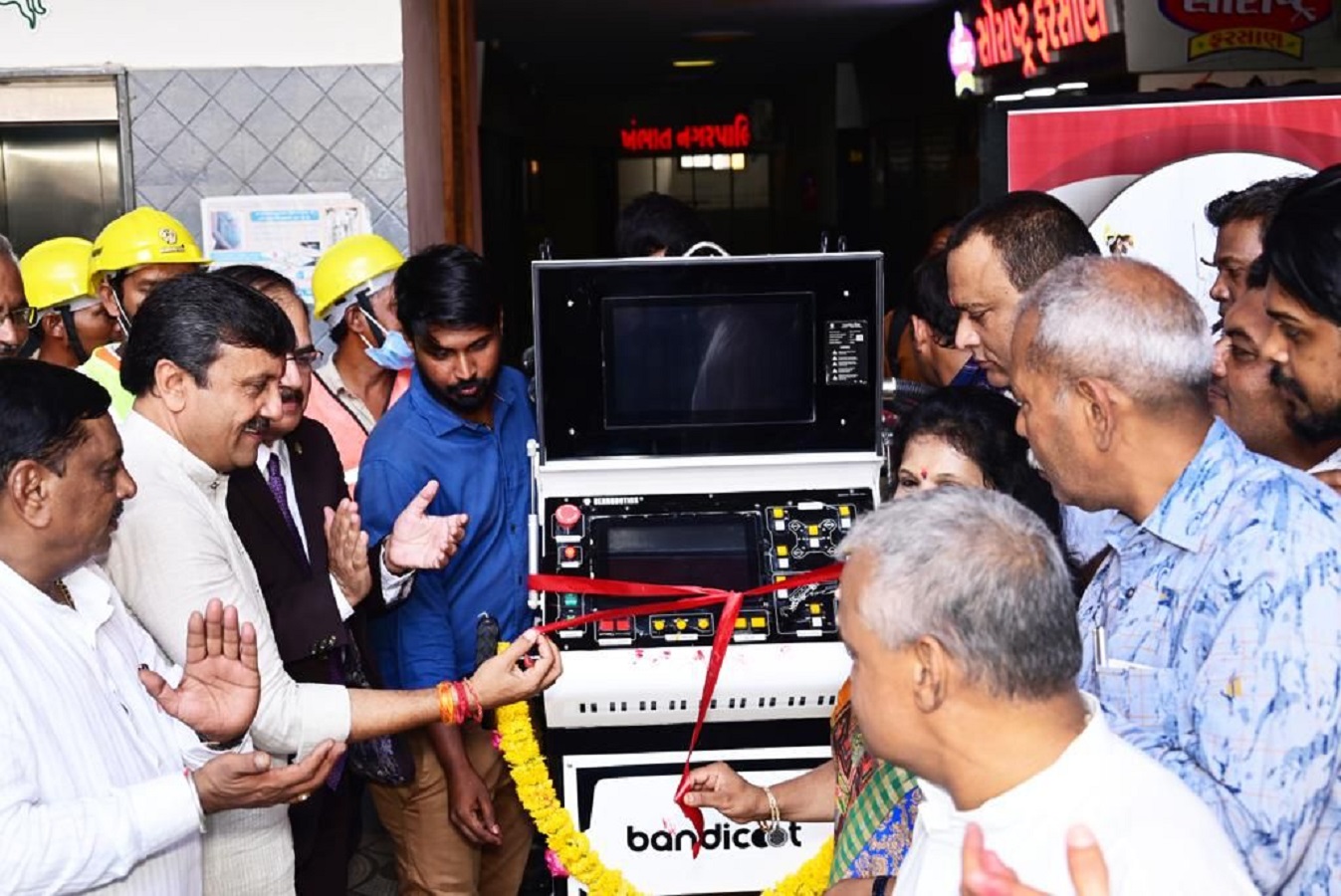 AHMEDABAD:
Gujarat Minister of State for Urban Development and Urban Housing Vinodbhai Amarshibhai Moradiya today launched two advanced robots at Khambhat Municipality, which would eliminate the hazardous and obnoxious practice of human entry into the city manholes for cleaning and give a dignified life to sanitation workers.
The robots, christened Bandicoot, have been drafted as part of a CSR initiative of the ONGC Foundation with a vision to transform the lives of 'Safaimitras' (sanitation workers).
The initiative is in tune with the Central Government's Safaimitra Suraksha Challenge under Swachh Survekshan, which aims at preventing hazardous cleaning of sewers and septic tanks through mechanised cleaning. This initiative gives safer and respectful jobs for the sanitation workers as robot operators with training and rehabilitation programmes.
"The state government has already started using robots for cleaning manholes, which, at times, become death pits for the sanitation workers due to accumulation of harmful gases. The state is now gearing up with more such robots to completely eliminate manual scavenging," Moradiya said.
"We are determined to help and improve the safety and dignity of sanitation workers and bring positive changes in their community," he added.
Bandicoot is the world's first manhole cleaning robot developed by national award winning startup Genrobotics under 'Make In India' and 'Swachh Bharat' initiatives. By using the most advanced technologies like robotics and AI, it can mimic and replace the entire human requirement inside the manhole for a more efficient cleaning. It is equipped with special waterproof cameras and sensors which help the operators to know the presence of poisonous gases inside the manholes.
Its specially designed robotic arm performs multiple operations such as shovelling, grabbing and pulling the wastes even from the corners of a manhole, which helps the liquid waste to flow through the sewer system naturally. After collecting all the wastes from every corner using its human-compatible robotic arm, its intelligent bucket system collects the wastes and pull it out from the manhole. This procedure is more efficient in cleaning manholes than any other conventional cleaning methodologies.
Bandicoot robot, which is also used for inspection of manholes, can be powered through electricity, generators or batteries. Notably, its interactive and user-friendly technology is designed to help the existing manual scavengers become robot operators. The operator can use the robot within a single touch of control.
This bandicoot robotic technology is being exported to several countries to improve safety in confined spaces such sewer manholes and refinery pits.