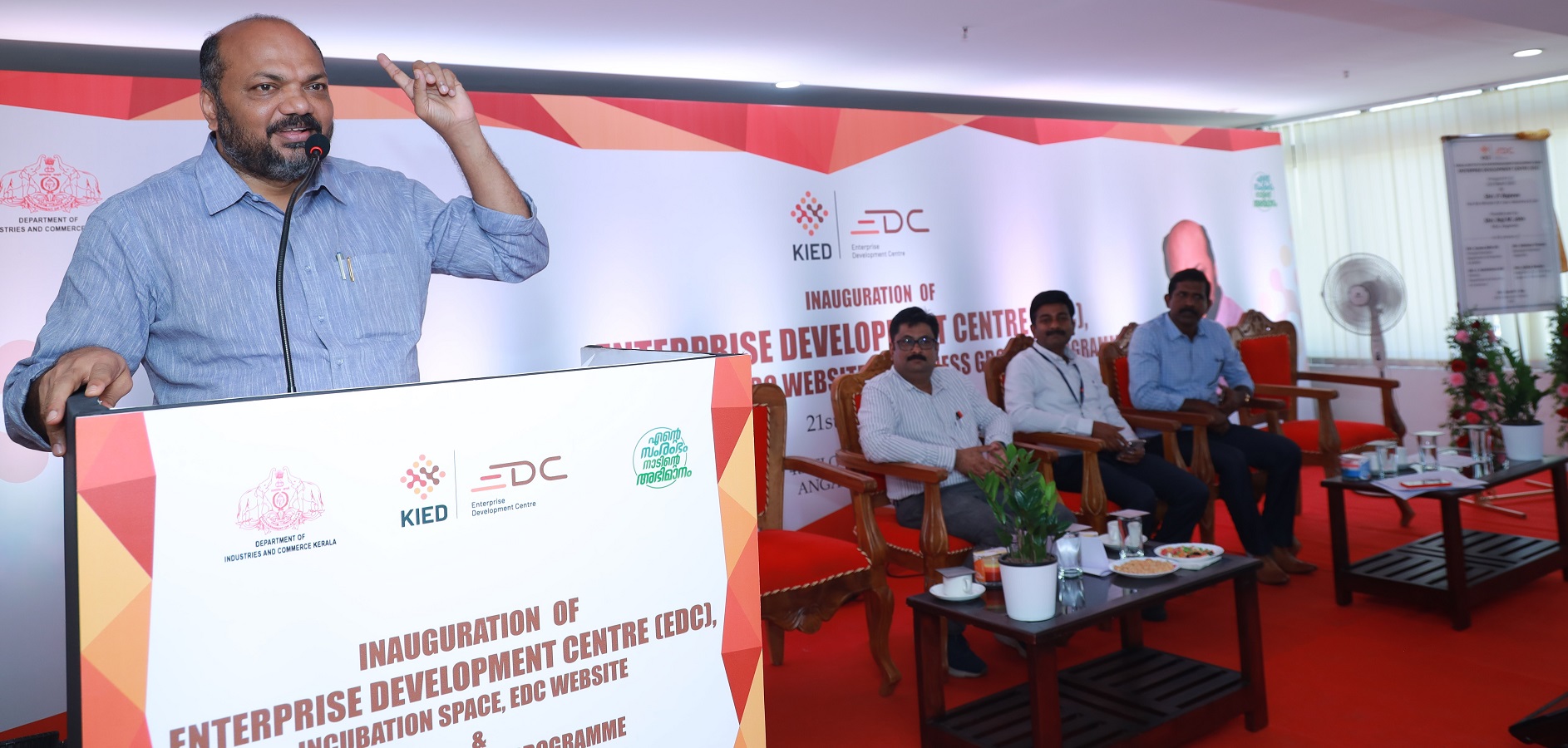 KOCHI:
In a big support to micro, small and medium enterprises (MSMEs) in the state, the Kerala Government will facilitate free consultancy on cost and management accounting to such ventures to curtail their mortality rate, Industries Minister P. Rajeeve said today.
As part of this scheme, the Directorate of Industries and Commerce is roping in the services of the Institute of Cost Accountants of India (ICWAI) from 2023-24 financial year, he said after inaugurating the state's first Enterprise Development Centre (EDC) at Angamaly, 40 km north of the city.
"To begin with, 300 MSMEs will benefit from the scheme," Rajeeve said, announcing the opening of EDC under the government-run Kerala Institute for Entrepreneurship Development (KIED).
Though the mortality rate of Kerala's MSMEs is less than the national average of 30 per cent, the government is keen to fully avoid premature closure of such units by extending all support, he said.
Rajeeve also announced the formal launch of KIED's Business Growth Programme that aims to accelerate MSME growth in the state by supporting their expansions and financing innovations. Applications can be made at www.edckerala.org under the six-month programme for MSME units that have been operational for less than ten years and are in the manufacturing sector or are providing specialised services to MSMEs. They should have an annual turnover of between Rs 35 lakh and Rs 50 crore.
The Minister, while stressing the need for translating the results of research projects into marketable products, said the country has recently been witnessing a change in thrust areas that support industries. "Much of the thrust during the last three decades was on IT. The next 30 years, it is going to be biotechnology," he said.
The EDC has been conceived to provide individualized assistance to entrepreneurs for planning, starting, sustaining, reviving and growing their innovative ventures. With its focus on building unique and innovative next-generation MSMEs and small businesses, the centre will provide support for technology adoption, high-value opportunities and the application of knowledge systems in select sectors. The unique initiative takes up each business separately and provides them tailored support
The government is going ahead with plans to strengthen the industry-academia link by setting up industrial parks close to universities and other higher-education institutions. Such collaborations will boost commercial application of research and development projects in institutions of excellence, the Minister pointed out at the function held at Inkel Towers-1, which is housing the EDC.
Referring to the strides made by the state to emerge as an investor-friendly destination in recent times through concerted efforts, the Minister said Kerala aims to get into the top ten ranks in Ease of Doing Business at the national level next year. Currently Kerala stands at 15, which has been an improvement from 28 a year ago.
The optimism stems from a positive change that the manufacturing segment today accounts for 18.9 per cent of turnover from the state's industry. "The state's industry has grown at 17.3 per cent when its contribution to the Kerala's GDP is 12 per cent," the Minister pointed out.
The government's initiatives under the 'Year of Enterprises' project is set to earn the state 1.5 lakh MSMEs in the current fiscal, he added.
District Industries Centre (DIC) General Manager P.A. Najeeb,, while chairing the session, said Kerala' s industry sector has earned a new-found optimism after the Covid-19 era. Present at the function was CASE Chief Operating Officer Vinod T.V.
Kerala Academy for Skills Excellence (KASE) CEO and Executive Director Sarath V. Raj welcomed the gathering, while KIED Deputy Manager P.J. Joseph proposed thanks.
The inaugural session was followed by a roundtable, led by a dozen experts, on Regional-Level Ecosystem Development, Industry-Academia Collaboration and Skilling. The occasion facilitated a personalized interaction with government officials, subject-matter experts, academic research institutions and entrepreneurs. The facilitators included Kerala Veterinary and Animal Science University, Central Plantation Crops Research Institute, Amrita University, Sree Sankara College (Kalady), Christ College (Irinjalakuda), Common Facility Centre, Central Institute of Petrochemicals Engineering & Technology, Kerala University of Fisheries and Ocean Studies, Central Tuber Crops Research Institute and Central Institute of Fisheries Technology.
Further, there was a display of technology and products developed by universities and research institutions, besides a session on sharing success stories.
The 1994-founded KIED is an autonomous State level institute promoted by the Department of Industries and Commerce under the Government of Kerala. The institute is declared as a Center of Excellence in Entrepreneurship Development by the state government, which conducts various training programs for existing and prospective entrepreneurs including student entrepreneurs every month on its campus at Kalamassery, near Kochi. KIED also operates NORKA's Business Facilitation Center.