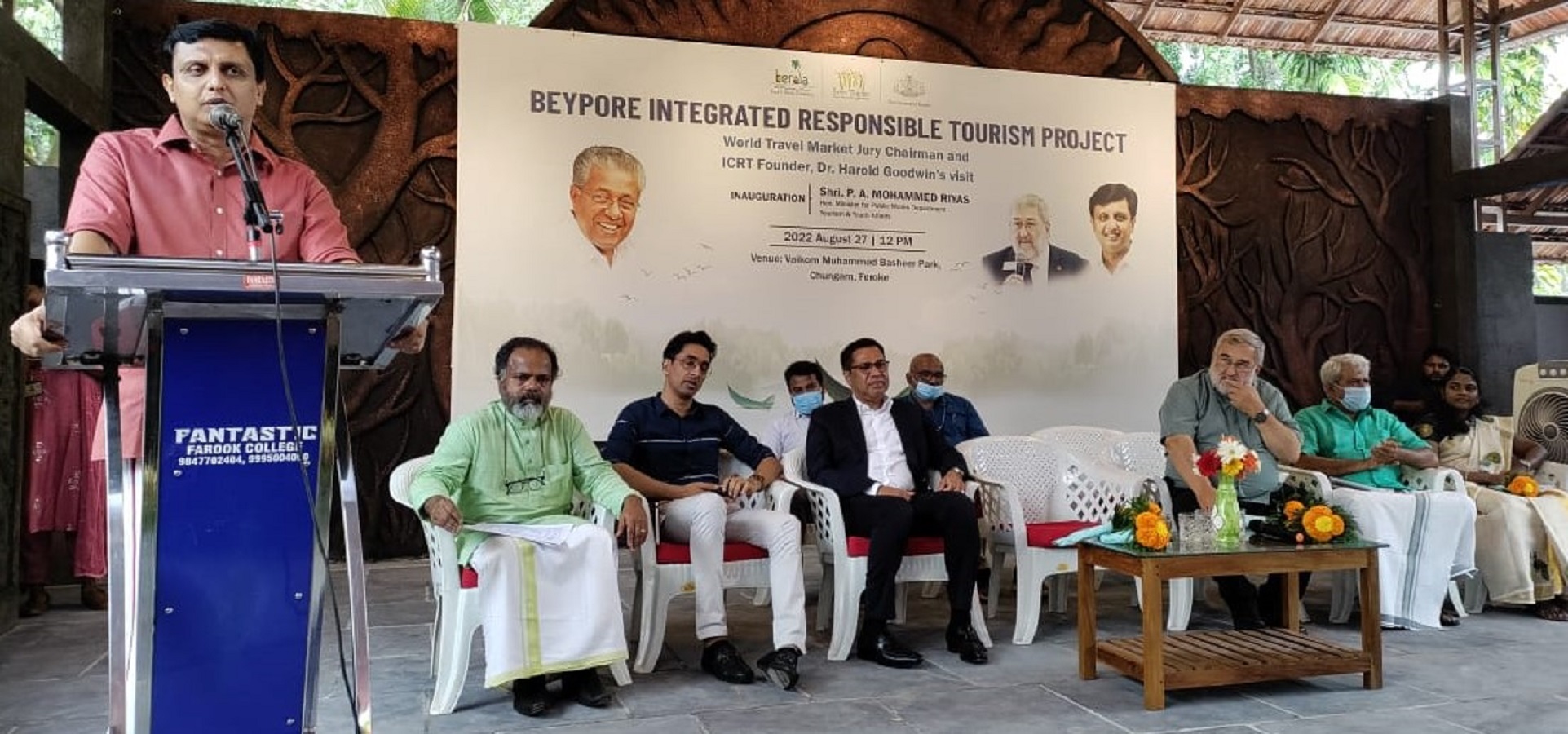 KOZHIKODE:
Kerala's efforts to make Beypore a Responsible Tourism (RT) destination of international repute got a fresh boost today when state Tourism Minister PA Mohamed Riyas inaugurated a get-together of the region's RT centres, coinciding with the two-day visit of International Centre for RT founder Dr Harold Goodwin to this Malabar town.
Noting that scenic Beypore, 10 km south of the city, is renowned for its social harmony and diverse ecosystem, the Minister said the government is making steady progress in its efforts to make the heritage-rich coastal strip the world's foremost RT unit.
"The first stage of the Beypore RT project is on since its launch at Cheruvannur on November 28 last year. The subsequent month, we initiated discussions at Special Tourism Grama Sabhas and came up with an e-book resource directory. We also brought out videos of Beypore's RT packages in English, Hindi and Malayalam," Riyas recalled at the ceremony in Vaikom Muhammad Basheer Park, Feroke.
"In January and February 2022, we gave training to local people in candle making and variety handicrafts besides making paper-bags and pens. Aimed at training 1,000 residents, the project is progressing with the figure having crossed 400," the Minister said.
Also, ten youngsters have received training in surfing and an RT unit formed in Beypore two-and-a-half months ago has been making major advances in the field. "Our future plans include a conclave of prospective entrepreneurs in tourism, inauguration of RT units that are getting completed and implementing waste-management arrangements in all of them," he added. "We will shortly be starting FAM tours, with Beypore hosting leading women tour groups and proponents as well as practitioners of RT."
UK-based Dr Goodwin, who is also advisor to the World Travel Market at London, said Kerala and Barcelona (Spain) are the two leading examples of RT anywhere in the world. "Both places have four things in common: rebellious locals, strong democratic local government, transparency, and a combination of marketing and management," he said in a power-point presentation.
"Tourism must invariably benefit the local populations," pointed out the expert, who has been visiting Kerala regularly for 15 years now, giving suggestions on ways to clear garbage.
Beypore, known for its ship-building tradition and age-old cross-cultural influences, is celebrated for its vintage 'uru' (dhow) that was in immense demand among the Arabs during the southwest Indian coast's trade with West Asia from as early as the 7th century AD.
State RT Coordinator K. Rupesh kumar highlighted the core activities of the five-year-old Mission.
RT Clubs will work in association with Kerala RT Mission by leading the government's efforts to develop local travel and tourism facilities, create awareness on the RT Mission and boost the region's folk culture by maintaining their traditional ethos, besides making destinations pollution-free and bringing them under the green protocol.
Present at the function, which was presided over by Feroke Municipal Chairperson N.C. Abdul Razak, were Kerala Tourism Director P.B. Nooh, Kozhikode District Collector Dr Narasimhugari T.L. Reddy, Kadalundi Village Panchayat President Anusha V.S., Kozhikode Corporation Councillors P.C. Rajan and K. Krishna kumari, Ramanattukara Municipality member Dr K. Chandrika, Beypore Mandalam Development Mission representative M. Gireesh, Nammal Beypore representative T. RadhaGopi, Tourism Department Joint Director T.G. Abhilash Kumar, Deputy Director T.C. Manoj, District Tourism Promotion Council Secretary T. Nikhil Das and RT Mission Coordinator Biji Xavier.
RT Mission Coordinator (Kozhikode District) Sreekala Lakshmi proposed thanks.