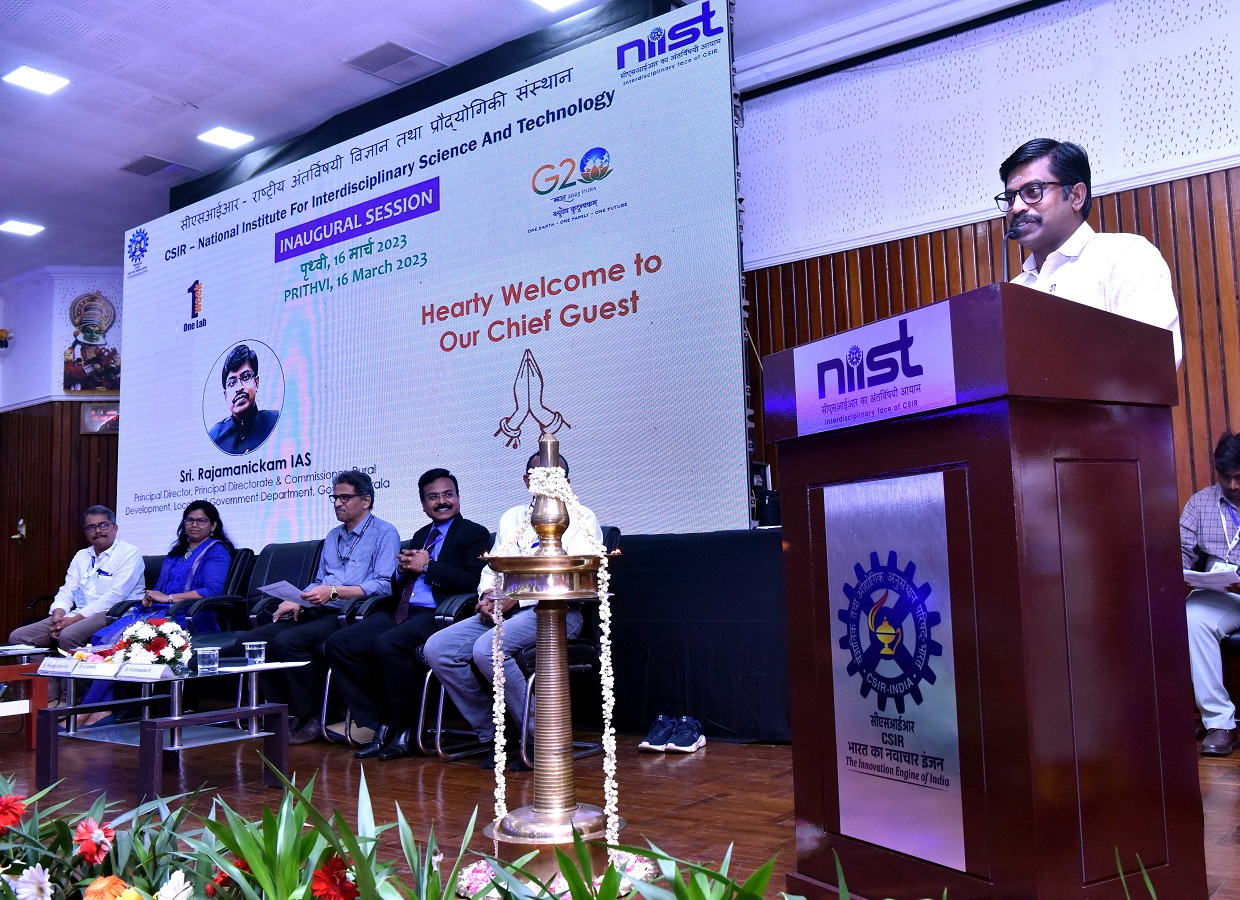 THIRUVANANTHAPURAM:
The Local Self Government Department (LSGD) and the Pollution Control Board (PCB) in Kerala today announced that CSIR-National Institute for Interdisciplinary Science and Technology (CSIR-NIIST) will be their Research and Development (R&D) partner, considering the institution's contributions in addressing environmental pollution and waste-management issues.
The announcement was made at the inaugural ceremony of the thematic session on clean-up technologies, "Prithvi", held as part of the ongoing 'One Week One Lab (OWOL)' programme of CSIR-NIIST, a constituent laboratory of Council of Scientific and Industrial Research (CSIR), Ministry of Science and Technology, Government of India, at its campus at Pappanamcode here.
Firming up the partnership, the LSGD and the PCB will soon ink an MoU with CSIR-NIIST, which has already provided a string of technology services to the state entities.
Inaugurating the session, M G Rajamanickam, Principal Director, LSGD, and Commissioner, Rural Development, Govt. of Kerala, said the principal duty of research institutions like CSIR-NIIST is to come out with scientific and technological support to the society, especially for the future generation.
"We required not only the development of technology but technology should sustain the science. We need a technology to sustain society to pave way for posterity," Rajamanickam said.
According to him, technology, research and development should be protecting the environment.
Noting that lack of space is a serious issue in Kerala's waste management system, he said as per a study, Kerala is generating 15,000 tonnes of waste per day and it comes close to five million tonnes annually. "When the government's processing capacity is only 10 percent, where does the remaining garbage go?" he asked.
Terming OWOL is a good programme to familiarise the society with the new technology available to address various issues, Mr Rajamanickam said deepening the collaboration with CSIR-NIIST by LSGD will have an intense impact in pollution control activities.
Rajamanickam also inaugurated the facility for Geospatial Modelling and Analysis set up at CSIR-NIIST, and launched 'Jaivam', a bio medium for aerobic composting of food waste developed by CSIR-NIIST.
Dr C Anandharamakrishnan, Director, CSIR-NIIST, Thiruvananthapuram, who presided over the function, said NIIST is working in the areas of domestic waste and electronic waste to find an apt solution.
Dr Anandharamakrishnan said apart from making leather products from agrowaste, NIIST has developed technologies for bio medical waste and it has been transferred to a startup in Ernakulam. He said the geospatial centre will help predict sand mining or flood from NIIST.
Dr Bineesha P, Executive Director, International Institute of Waste Management (IIWM) and Board Member, Technology Development Board, DST, Govt. of India, said there is no dearth of technology but what is lacking is a systematic approach in environmental issues.
Dr Bineesha said a disaster management plan has to be put in place and noted that CSIR-NIIST's Geo Spatial facility is an important step since through this facility all the mapping of dump sites can be done.
Pradeep Kumar A B, Chairman, PCB, Govt. of Kerala, highlighted lack of manpower and legal cell in the facility for the effective implementation of activities. He said collaboration with CSIR-NIIST as R&D partner will help bring in a big change in their activities.
Dr Kesavachandran C, Senior Principal Scientist and Head, Environmental Technology Division, CSIR-NIIST, welcomed the gathering.
Dr Krishnakumar B, Senior Principal Scientist, Environmental Technology Division, CSIR-NIIST and Convenor, Prithvi, was also present.
Meanwhile, in the Startup and Industry conclave, Dr Sheela A M, Member Secretary, Kerala State PCB, said startups have a major role in evolving solutions for a cost-effective treatment system for waste water and its reuse and also proper tracking of waste disposal.
Jyothish Chandran, Director (Solid Waste Management), Suchitwa Mission, LSGD, Govt. of Kerala, called for an enforcement mechanism for waste management and added that scarcity of land has prompted them to promote decentralised waste management.
In a panel session on "Urban Waste Management in Kerala," Dr Ajit Haridas, Former Chairman, Kerala State PCB stressed the need to focus on possible solutions for solid waste management and the business opportunities in the area for budding entrepreneurs.
U V Jose, Deputy Project Director Kerala Solid waste management Project, LSGD, Govt of Kerala, said with effective infrastructure, policy framework and awareness, the government will be able to deploy sustainable waste management facilities in every household in five years.
Praveen K S, Director (Liquid Waste Management), Suchitwa Mission, LSGD, Govt of Kerala and Vishnu Venugopalan, Deputy General Manager, Smart City Thiruvananthapuram Ltd. also attended.
In another session on "Environmental Management Services for Developmental Projects," Dr Punnen Kurian V, Secretary and Director, Tropical Institute of Ecological Sciences, Kottayam and Dr Kannan Narayan, Environment Expert, Kerala Solid Waste Management Project, were present.