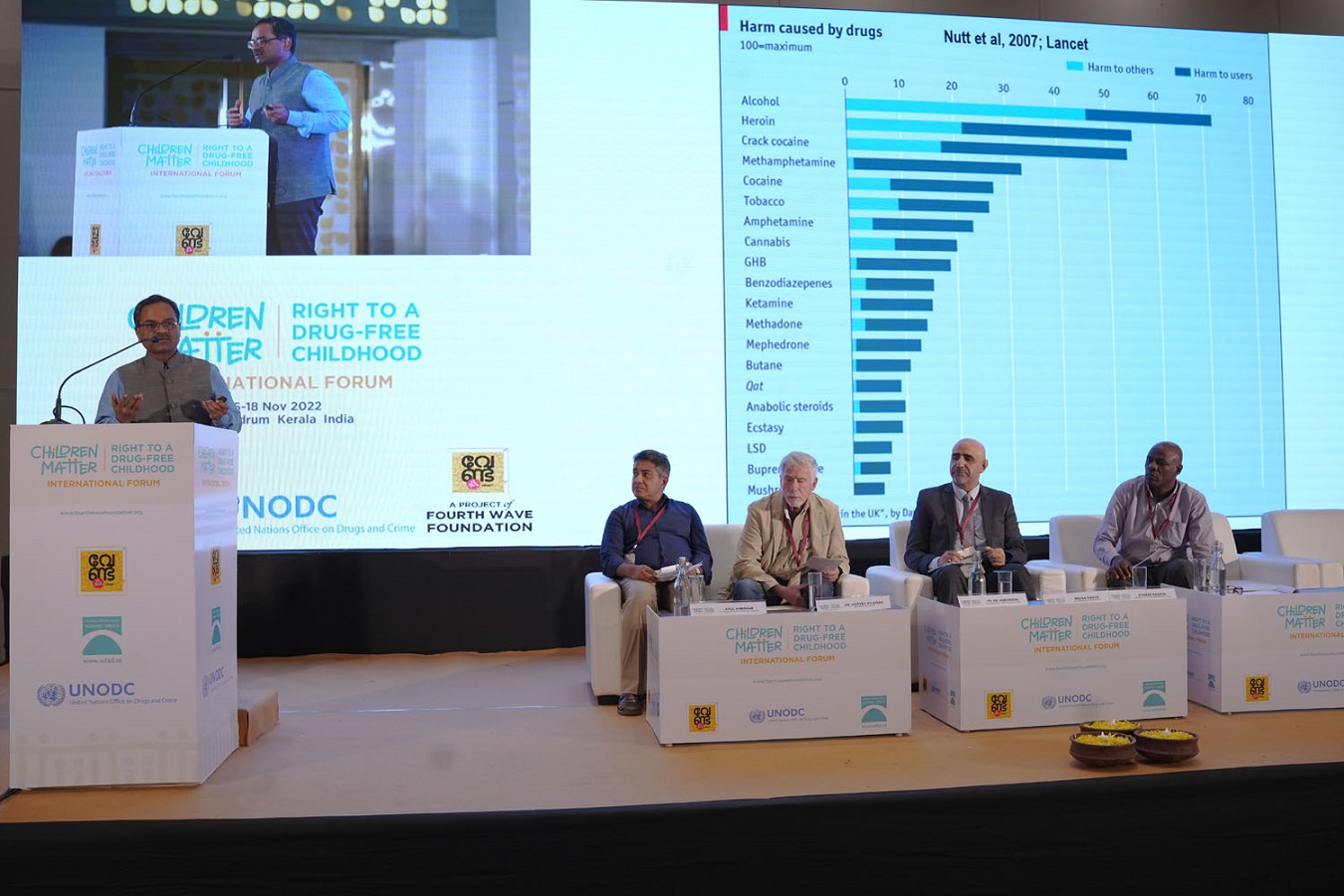 THIRUVANANTHAPURAM:
Mothers play a vital role in protecting children from drug abuse by acting as the first line of defence in the family through peaceful and healthy parenting, say experts at the ongoing international forum themed 'Children Matter – Right to a Drug-Free Childhood' being held here.
The speakers on the second day of the UN-backed conclave on Thursday urged parents and educators to bring in early intervention strategies to ensure that children are brought up in a safe environment free from substance abuse.
Speaking on "The role of the family and school in working with children and students", Dr Edit Schlaffer, Founder and Chair, Women Without Borders, Austria, noted mothers can be the most effective prevention actors against drug abuse among children. Also, she advocated the need to implement effective parenting education in all future action plans to safeguard the adolescents and youth at risk.
"Mothers are often receptive to new parenting techniques and can locally employ the new practical parenting techniques to the families. Family settings are central in defining the trajectories of present and future generations, and parenting education remains a missing link in most youth safeguarding strategies", said Dr Edit Schlaffer.
Dr Atul Ambekar, Professor, National Drug Dependence Treatment Centre, AIIMS, said in order to realise the right to a drug -free childhood, the society needs to ensure that all other basic rights of children – right to life, health, education, equality and dignity are met effectively.
Dr Harvey Milkman, Professor Emeritus, Metropolitan State University of Denver, USA, who spoke on "Creating substance abuse free environment for children: Supportive Environments and the Developing Brain, said as early experiences affect the quality of the basic architecture of the brain, children should have a healthy upbringing focussing on learning, health, and behaviour. He noted that the process of addiction recovery will be difficult since it involves multiple sources of treatment and recovery supports.
Mousa Daoud, Director, the Jordan Anti-Drugs Society, Jordan, said since global relapse rates for all substance use disorders are 40% to 60% within 30 days of leaving an inpatient treatment centre and 85% of individuals relapse within a year following treatment, focusing on the environment, mental health and relationships of people with drug abuse addiction are important.
Rogers Kasirye, Executive Director, Uganda Youth Development Link, Uganda emphasised the relevance of having a childhood filled with peace, fun, and joy to have a drug free childhood. He advocated the need to have programmes focussing on psycho-social and economic empowerment of youngsters. "Child participatory methods and using children as agents of change among peers will help in reducing the menace of drug abuse", he added.
The forum, the first-of-its-kind in Asia on the topic, is organised by Fourth Wave Foundation (FWF) in partnership with United Nations Office on Drugs and Crime (UNODC) and World Federation Against Drugs (WFAD).