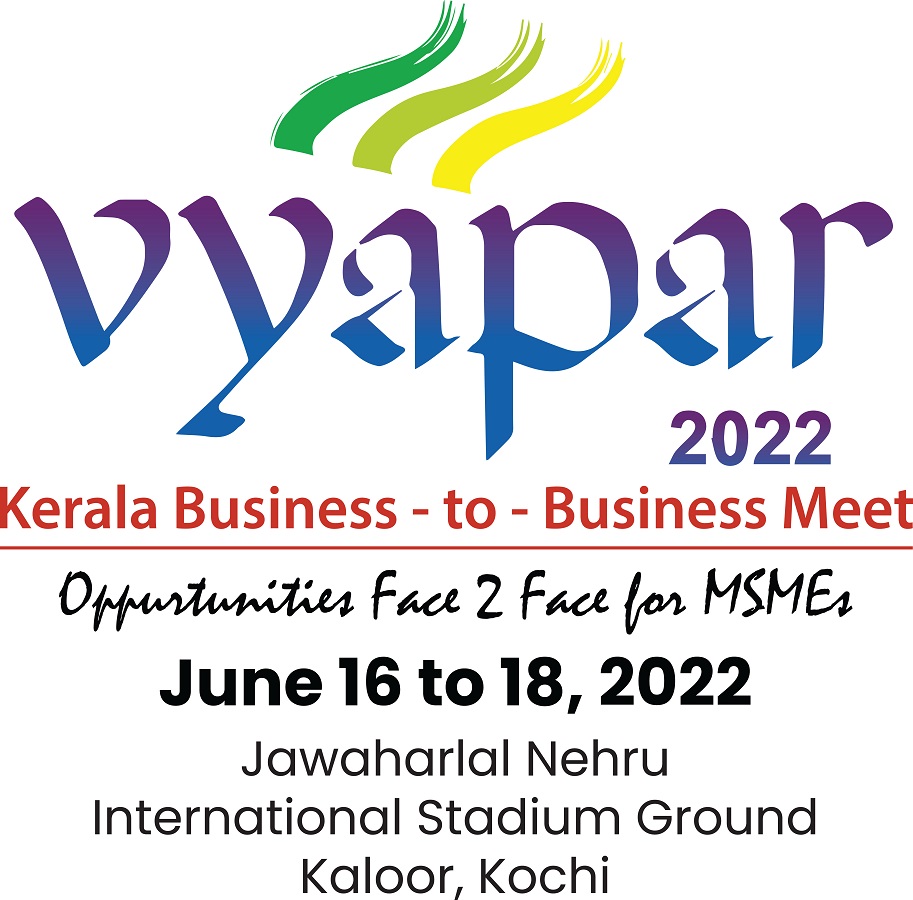 KOCHI:
"Vyapar-2022", the biggest ever Business-to-Business meet organised by the Kerala Government to tap the national market for a wide range of products of Micro, Small and Medium Enterprises (MSMEs),will open here on Thursday, setting the stage for over 300 entrepreneurs and around 500 buyers from across the country to strike partnerships.
Besides having over 10,000 business meets, the three-day event will see executives of e-commerce giants including Amazon and Flipkart as well as multinational conglomerate Lulu Group International briefing the promoters of MSMEs on procurement procedures to enlarge the market for their products.
Also, top officials from ministries of Defence and Railways will guide the entrepreneurs on procurement procedures and protocols to be followed for getting their products purchased by big government entities.
Minister for Law, Industries and Coir P. Rajeeve will inaugurate the event, organised by the Department of Industries and Commerce, at Jawaharlal Nehru International Stadium Ground in the city.
"Vyapar-2022 has been planned on a bigger scale than its previous editions as MSME products from Kerala are now greatly fancied across the country and outside on account of their unique features and quality. This meet will guide our entrepreneurs to strike enduring business deals, effectively leverage the e-commerce platforms and know the procedures and protocols to get their products purchased by the central government and public sector entities," Rajeeve said.
'Celebrating and showcasing a wide spectrum of world class products of MSMEs from Kerala' is the motto of the event.
The inaugural ceremony at 9 a.m. will be chaired by Kochi Mayor M. Anilkumar, while Department of Industries and NORKA Principal Secretary Suman Billa will deliver the keynote address. Special addresses will be given by Hibi Eden, MP and A.P.M. Mohammed Hanish, Principal Secretary, Department of Industries.
Vyapar 2022 is expected to give a big boost to the MSME sector hit by the Covid-19 pandemic, by providing them a platform to showcase the quality of their products, technological competence and skills before the industrial community from around the country.
Besides buyers from top commercial establishments, representatives of all-India trade and commercial organisations, business consortiums, e-commerce executives, exporters and consumers will converge at the conclave to make business deals.
The expo at the event will exhibit the productivity of industry, present the products that are branded or otherwise, encourage industries to boost their growth profile, kindle the interest of investors and highlight the role of MSMEs in the economic growth of the state.
The focal sectors are food processing (food and spices); handlooms, textiles and garments (fashion design and furnishing products);rubber; coir products; Ayurveda and herbal (cosmetics and nutraceuticals); electrical and electronics; and traditional sectors that include hand-carved goods, handloom textiles and bamboo-based items, according to organisers. The products will reflect Kerala's industrial and entrepreneurial traditions, craftsmanship and technology-driven competitiveness.
At the opening session, Industries and Commerce Director S. Harikishore, KSIDC Managing Director M G Rajamanickam, K-bip CEO Suraj S, KINFRA MD Santhosh Koshy Thomas, Kerala State Small Industries Association President M. Khalid and FICCI Kerala State Council Chairman Deepak L. Aswani will speak.
The Kerala Industries Department, through its www.keralabusinessmeet.org website, has arranged for registration of MSME entrepreneurs as sellers and for those from other states as buyers. The participating MSMEs were chosen by a panel comprising the District Industry Centres headed by the State's Director of Industries and Commerce.