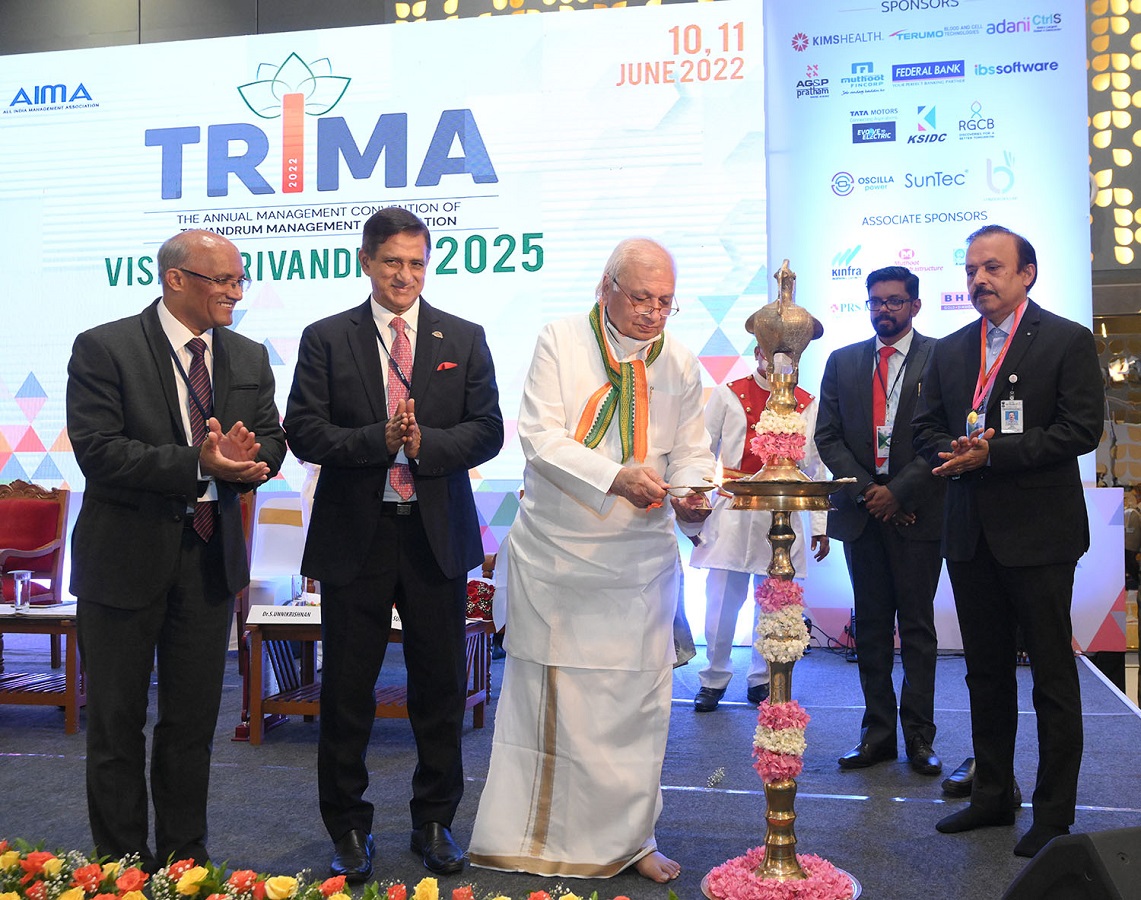 THIRUVANANTHAPURAM:
As India is making its journey towards greater growth, achieving sustainable, inclusive and equitable development of cities by applying sound managerial approaches and smart solutions is vitally important, Kerala Governor Arif Mohammed Khan said here today.
The Governor was delivering the inaugural address at the two-day management convention of Trivandrum Management Association (TMA), TRIMA 2022, attended by industry leaders, top managers and policy-makers to deliberate on development of the state capital region.
"Today, our concept of modern life includes cities that offer core infrastructure, greater accessibility, cleaner environment and better governance through the application of smart solutions, and in general better quality of life", the Governor said.
The convention has rightly acknowledged the social role of managers by choosing 'sustainable development,' 'human capital,' 'seamless connectivity and infrastructure' and 'innovation and entrepreneurship' as key topics of deliberations in relation to the capital city's development, he said.
The development of the state capital in the spirit of "Sabka Sath', Sabka Vikas' Sabka Viswas and Sabka Prayas' is close to the heart of all those present here, the Governor said.
Noting that the quality of life of a society is the prime goal of management, Khan said India's adept management of Covid-19 pandemic, whose highlight was the largest and best managed vaccine drive in history, is a reminder of this principle.
Stating that the younger generation of managers need to be endowed with the values of compassion and empathy, the Governor recalled the golden principles of management which ancient India formulated and gave us, emphasized that any business action should benefit society at large.
Khan said it would do well for the Kerala capital to establish itself as a global hub for education by utilising the strides achieved by the state in technology and connectivity.
The Governor released on the occasion "Trivandrum Vision-2025—A Snapshot of City's Vision Development Journey", a book compiled by KPMG, based on inputs by experts from diverse domains including TMA members, by handing it over to Dr S Unnikrishnan Nair, Director, Vikram Sarabhai Space Centre (VSSC).
The Governor bestowed TMA's Leadership Award 2022 on ISRO Chairman Dr S Somanath for his sterling contributions to India's space programme and infusing a new dynamism in its futuristic projects. Dr S Unnikrishnan Nair received the award on behalf of Dr Somanath.
The Governor also presented the TMA Padosan CSR award to Lulu Group International, which was received by Lulu Group Regional Director Joy Shadanandan.
TMA-Adani Startup Award for Elvicto Technologies was received by the company MD Ajaya Jose and Saji Joseph, Director. The TMA-KIMS award for Paper Presentation was received by Adhirej J R Nair of CET School of Management. Akash S and Ajeesh VS from DC School of Management and Uttara Nair and i Rahul A of CET School Management shared the second prize in paper presentation.
Delivering the key-note address at the session, Dr Unnikrishnan Nair said satellite -based technology can have major roles in urban planning and development including in infrastructure planning and assessment, traffic management, and flood-zone mapping and controlling flood situation.
Rajesh Jha, President TMA, and MD & CEO Adani Vizhinjam Port Pvt Ltd, while welcoming the gathering, said the convention will be looking into strategies and plans for making Kerala capital a city of future growth.
Making the Concept Presentation at the convention, Dr MI Sahadulla, Chairman TRIMA 2022, and CMD KIMS Healthcare Management, said it is necessary to craft a development path to transform the state capital from a laid-back city to a dynamic and vibrant economic hub.
In his award acceptance video message, Dr Somanath said he looked forward to the TMA convention contribute significantly to the Kerala and its capital in a sustainable manner.
In his award acceptance message, Lulu Group Chairman & Managing Director, MA Yusuff Ali, said along with growth, more job opportunities need to be created for the youth and future generations.
Rekha Joy, Associate Director, KPMG, made a presentation on the salient aspects of the Vision 2025 document, setting the context for seminars at the convention. Sunil Kumar A, Secretary TMA proposed the Vote of Thanks.
Over 200 delegates, including industry leaders, decision makers, professionals, members of the business fraternity and policy makers, are attending the convention.
TMA is a premier management association in the country affiliated to New Delhi-based All India Management Association (AIMA).