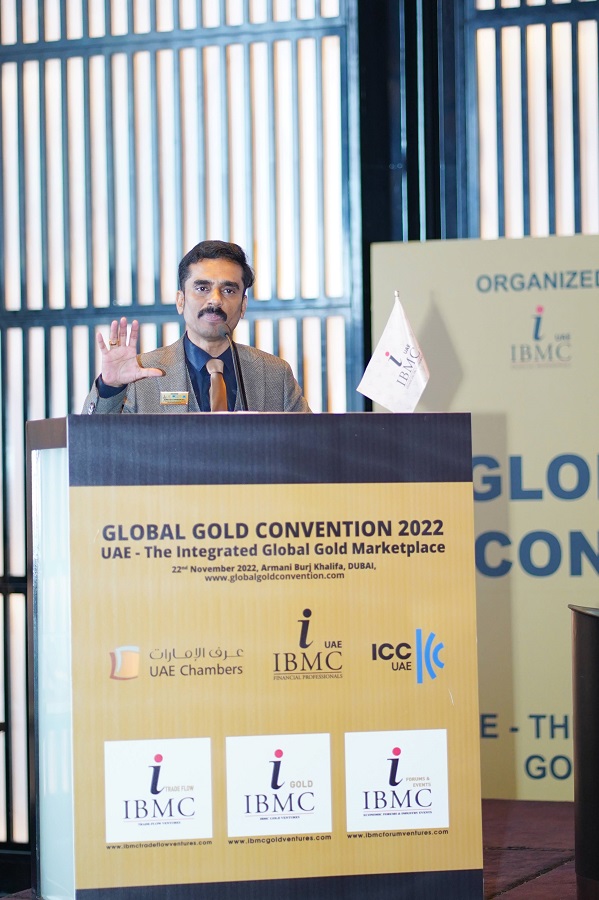 DUBAI:
The UAE is all set to become the most Integrated Global Gold Marketplace with more than 100 countries participating and discussing ways and means to achieve the goal at the 4th Global Gold Convention 2022, at Armani Hotel, Burj Khalifa, Dubai.
The global convention, held on November 22, 2002, received overwhelming response from gold industry stakeholders from across five continents to make the UAE the Integrated Global Gold Marketplace.
More than 100 countries through ministers, diplomats, regulators, top industry leaders, gold mines, refineries, traders and jewellers participated in the global convention organised by IBMC Financial Professionals Group and co-organised by the Federation of UAE Chambers of Commerce & Industry (UAE Chambers) and the International Chamber of Commerce, UAE.
"Gold industry is vital to the UAE economy and the country is all set to become the most integrated marketplace. The UAE is truly making this happen by providing all supports to the global gold industry players, investors and traders as part of its non-oil sector diversification programme. This Convention has succeeded in bringing all stakeholders in a single platform which helped in connecting to the world and facilitating investments, joint venture deals, collaborations and regulatory measures," Humaid Ben Salem, Chairman of International Chamber of Commerce (ICC UAE) and Secretary General of Federation of UAE Chambers of Commerce & Industry, said in his keynote address.
With greater industry-wide participation, the Convention has acted a catalyst to trigger discussion on potential joint venture opportunities for both UAE and rest of the participating countries. Diplomats from 50 countries, in two special sessions Diplomatic Enclave, highlighted the investment opportunities and incentives offered by the respective countries.
Ministers and ambassadors participating in the Diplomatic Conclave highlighted gold industry developments in each country, investment opportunities in each sector such as mining, refining, jewellery, exports and imports. They also discussed opportunities and challenges for increasing trade with the UAE as the country is the biggest destination for African gold.
In a Special Industry Address, Jeffrey Rhodes, Founder & Managing Consultant of Rhodes Precious Metals Consultancy DMCC, said: "The gold industry is at the cross-roads in view of the extreme volatility, interest rate changes that directly impact gold investments, highest inflation rates in key markets that influence investor perception and regulatory measures."
Sajith Kumar PK, Managing Director and CEO, IBMC Financial Professionals Group, said: "We are happy that we could bring gold industry stakeholders from five continents in a single platform with the objective of making the UAE the Integrated Global Gold Marketplace. It is heartening to note that they have pledged their support and commitment to increase investments, trade and related activities to make the Integrated Marketplace a vibrant one."
Mr Sajith Kumar also announced that the 5th edition of the Global Gold Convention will he held on November 23, 2023 at the same venue – Armani, Burj Khalifa.
IBMC has signed MoUs with Ghana, Saudi Arabia, UK and Papua New Guinea for facilitating investments. IBMC has also unveiled its new strategies and solutions for gold business and investments and signed several MoUs for business banking & facility for Gold Markets, Secured Business Structure for Gold Mining Companies, and for Large Investments to Gold Alluvia Mining and Hard Rock Mining.
IBMC announced the setting up three subsidiary companies to support Import & Export and Trade Portal activities to Integrate 5 continents and more than 100 countries. Expert panel members in a dedicated session 'Post-Expo developments: How Global Gold Industry evolving and major initiatives from UAE', evaluated the benefits of Dubai Expo 2020 to the gold industry.
Leading company representatives and experts discussed global industry practices in the light of the recent regulatory measures announced by the UAE and other countries. The participants said growth of the industry depends on how the stakeholders follow best industry practices that will win the trust of investors, transparency and regulated transactions.
A session on 'Investments and Business Opportunities in Gold Industry', observed that despite the high volatility in gold prices, gold remains the most attractive investment avenue. Investment opportunities in mines, refineries, trading and jewellery sectors were also discussed.
'Gold jewellery & retail business' was the focus of a special session, which discussed the state of affairs in the industry, price volatility and retail markets, hedging opportunities and jewllery manufacturing.