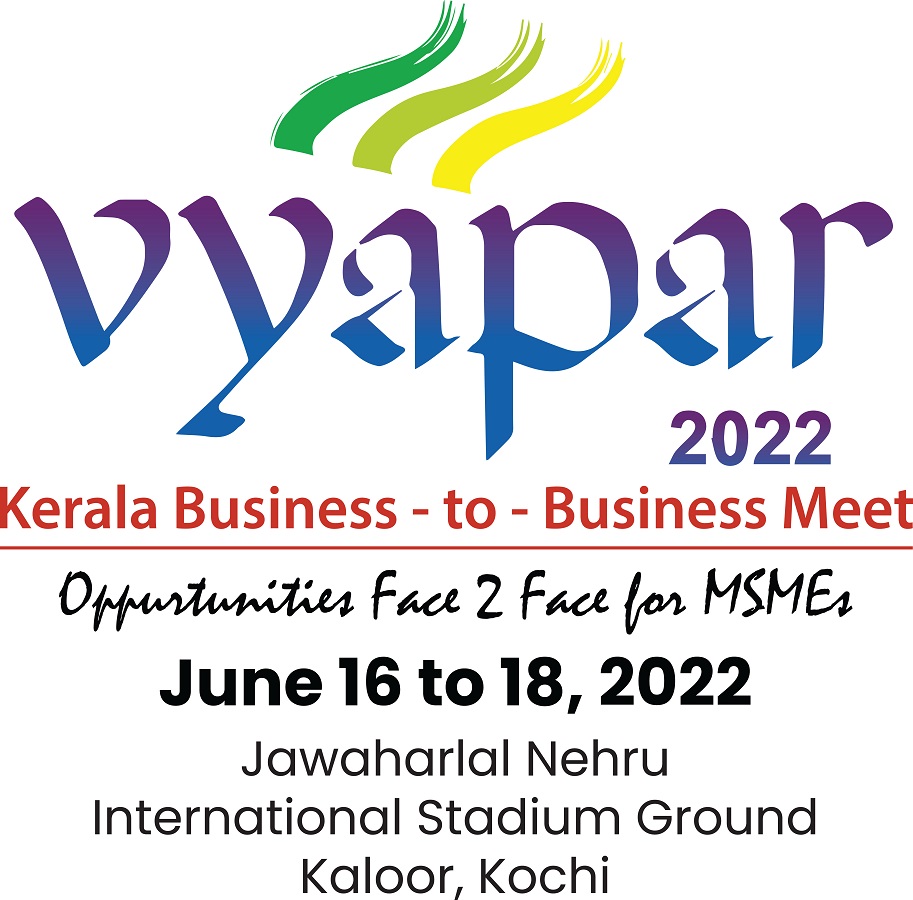 KOCHI:
Opening up new avenues for a wide range of products of Kerala-based MSMES, executives of e-commerce giants including Amazon and Flipkart and senior officials from Ministry of Defence and Railways will brief on the procurement procedures and purchase protocols at seminars planned on the side lines of the three-day Business-to-Business Meet, "Vyapar 2022", opening here on June 16.
Organized by the Department of Industries and Commerce, Government of Kerala, over 300 promoters of Micro, Small and Medium Enterprises (MSMEs) and 500 buyers are attending the B2B meet and expo, leading to over 10,000 business meets for three days.
"These interactions will provide an opportunity for MSMEs to know how to go about expanding the markets for their products, which will also help revive their pandemic-hit businesses," said P Rajeeve, Minister for Law, Industries and Coir.
The sales and marketing executives from Lulu Group International, Open network for Digital Commerce (ONDC), textiles and foods procurement division of Amazon, and procurement division of Flipkart will make presentations at various sessions at the event.
The seminars will focus on the buyers' requirements and procedures to be followed to channelise the product to the national market in a big way.
Vyapar 2022" is a big platform for MSMEs to showcase their products and scale up marketing by forging business partnerships, seeking to give a boost to the pandemic-battered sector.
On the inaugural day, Tanveer Khan, Deputy Chief Project Manager Dedicated Freight Corridor Corporation of India Ltd (DFCCIL), Indian Railways, will speak on 'Railway Procurement Procedures'. This will be followed by presentations on procurement procedures by Dhanajya, Head, South India Procurement, Flipkart; and Das Damodharan and Saneesh from LuLu procurement team. In another session, T Koshy, MD & CEO, Open Network for Digital Commerce (ONDC), will make presentation on about ONDC platform in his presentation.
On the second day, Sweatha and Pinky from Textiles & Food Processing Division, Amazon, will speak on the procurement procedures of the firm. Maj. Gen Y P Khanduri, Head, Canteen Stores Department (CSD), Ministry of Defence, will give a presentation on the procedures followed in Defence procurements.
Rashid Aramam, Buying Head, Nesto, will give an insight into the procurement procedures of his company. The same day, officials from the Directorate of Industries & Commerce will make a detailed presentation on Ease of Doing Business (EoDB) initiatives of Government of Kerala.
P. Rajeeve will inaugurate Vyapar 2022 at Jawaharlal Nehru International Stadium in the city, giving entrepreneurs an opportunity to showcase their competence and skills before the industrial community from around the country.
Besides buyers from top commercial establishments including e-commerce firms, representatives of all-India trade and commercial organisations, business consortiums, exporters and consumers will converge at Vyapar 2022, seeking to clinch beneficial deals.
The Kerala Industries Department, through its www.keralabusinessmeet.org website, has arranged for registration of MSME entrepreneurs as sellers and for those from other states as buyers. The participating MSMEs were chosen by a panel comprising the District Industry Centres headed by the State's Director of Industries and Commerce.