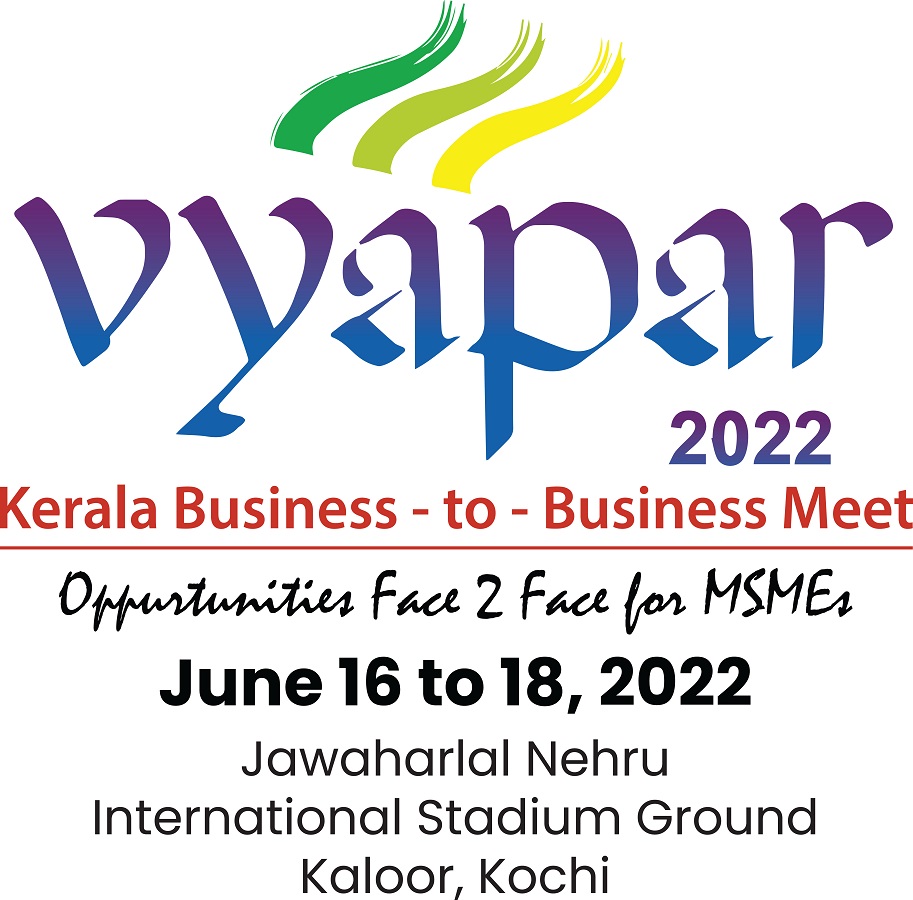 KOCHI:
In a targeted drive to tap the national market for a wide range of products from Micro, Small and Medium Enterprises (MSMEs), Kerala is holding a major Business-to-Business Meet, "Vyapar 2022", from June 16 to 18 here, which will see promoters of over 300 MSMEs and around 500 buyers from across the country engaging in around 10,000 business meets.
Organized by the Department of Industries and Commerce, Vyapar 2022 is expected to yield enduring win-win business partnerships, giving a big boost to the MSME sector hit hard by Covid-19 pandemic over the last two years.
Minister for Law, Industries and Coir P. Rajeeve will inaugurate the three-day event at Jawaharlal Nehru International Stadium in the city, giving entrepreneurs an opportunity to showcase their competence and skills before the industrial community from around the country.
Besides buyers from top commercial establishments, representatives of all-India trade and commercial organisations, business consortiums, exporters and consumers will converge at Vyapar 2022, seeking to clinch beneficial deals that will find a niche for Kerala's products in the national market.
Vyapar 2022 will exhibit the productivity of industry, present the products that are branded or otherwise, encourage industries to boost their growth profile, kindle the interest of investors and highlight the role of MSMEs in the economic growth of the state.
'Celebrating and showcasing a wide spectrum of world class products of MSMEs from Kerala' will be the motto of the event, being organised by K-bip (Kerala Bureau of Industrial Promotion) in association with the state Directorate of Industries and Commerce, KINFRA (Kerala Industrial Infrastructure Development Corporation), KSIDC (Kerala State Industrial Development Corporation) and FICCI (Federation of Indian Chambers of Commerce and Industry) besides the Office of the Development Commissioner under the Union MSME Ministry.
The focal sectors are food processing (food and spices); handlooms, textiles and garments (fashion design and furnishing products);rubber; coir products; Ayurveda and herbal (cosmetics and nutraceuticals); electrical and electronics; and traditional sectors that include hand-carved goods, handloom textiles and bamboo-based items, according to organisers. The products will reflect Kerala's industrial and entrepreneurial traditions, craftsmanship and technology-driven competitiveness.
Thursday's inaugural ceremony at 9 a.m. will be chaired by Kochi Mayor M. Anilkumar, while Department of Industries and NORKA Principal Secretary Suman Billa will deliver the keynote address.
Special addresses will be given by Hibi Eden, MP and A.P.M. Mohammed Hanish, Principal Secretary, Department of Industries.
The Kerala Industries Department, through its www.keralabusinessmeet.org website, has arranged for registration of MSME entrepreneurs as sellers and for those from other states as buyers. The participating MSMEs were chosen by a panel comprising the District Industry Centres headed by the State's Director of Industries and Commerce.
The exhibition at the Vyapar 2022 venue will give participants a deeper understanding of the quality of the state's MSME products along with the nature of their market and its prospects. To be on display are industrial products related to all the seven focal sectors of the event.
Vyapar 2022 will provide the buyers from outside of Kerala a chance to interact directly with the host state's sellers and manufacturers. The exhibition will, on its last day, be open to the public from afternoon.
With a steady rise in the number of buyers and sellers in the previous editions, Vyapar 2022 is a cut above in planning and conduct. Seminars involving representatives from top e-commerce companies such as Amazon and Flipkart, Government Departments like Defence, Railways & ONDC and live demonstrations of products by MSMEs from various segments have also been planned. Due to Covid-19 conditions foreign buyers have not been invited to the event, organisers said.
At the opening session, felicitations will be offered by KSIDC Managing Director M.G. Rajamanickam, KINFRA MD Santhosh Koshy Thomas, Thrissur-based MSME Development Institute Joint Director and HoO G.S. Prakash, Kerala State Small Industries Association President M. Khalid and FICCI Kerala State Council Chairman Deepak L. Aswani. Industries and Commerce Director S. Harikishore will welcome the gathering, while K-bip CEO Suraj S. will propose thanks.