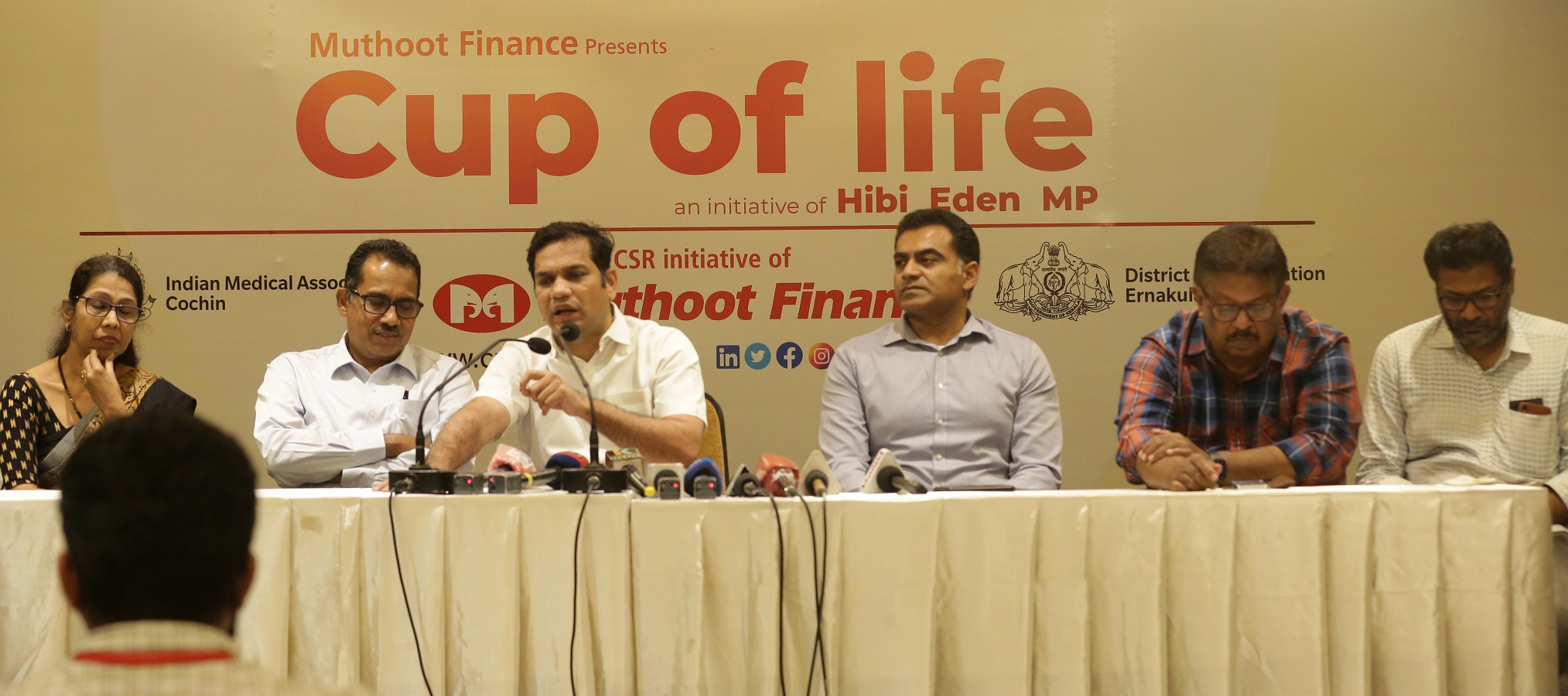 KOCHI:
Aiming to bring revolutionary change in the field of menstrual hygiene and create more safety awareness among women, the Cup of Life program being implemented by Hibi Eden MP in collaboration with Muthoot Finance will be held on August 30 and 31. The Cup of Life project aims to create awareness about consumer-friendly, sustainable, eco-friendly and cost-effective menstrual cups and distribute one lakh menstrual cups free of cost.
The project led by Hibi Eden MP will be financed by the CSR fund of Muthoot Finance and supported by Ernakulam district administration and Indian Medical Association (IMA) Kochi.
The main event will be the free distribution of one lakh menstrual cups within 24 hours at 100 venues within the Ernakulam Parliament Constituency limits starting from the evening of August 30 and ending on the evening of August 31. As part of its campaign, various awareness, art and cultural programs will be organized for two months. Each venue will have 6 trained volunteers. Trained volunteers led by IMA Kochi will explain how to use the menstrual cup live at all venues and answer queries. This kind of event is organsied for the first time in the world.
Hibi Eden MP said that Cup of Life program will become a strong step for women empowerment beyond the distribution of menstrual cups. Hibi Eden also pointed out that the cup of life project can open the way for public discussion about the conflicts women experience during periods and the beliefs of the general society about virginity.
As part of the project, a pilot project was implemented in Kumbalangi Gram Panchayat of Ernakulam Parliamentary Constituency. Awareness programmes were conducted in all the 17 wards of the panchayat and 4000 cups were distributed. Hibi said that it was decided to collaborate with Muthoot Finance after the the pilot project received good response.
A woman spends about Rs 1,00,000 on sanitary pads throughout her life. During the 3000 days, one also faces difficulties related to menstruation. The message of 3000 free days through the use of menstrual cup will be given by the Cup of Life programme. There is also a financial benefit as one cup can be used for up to four or five years. In India alone, 12 billion used pads per year pose a threat to nature. Apart from causing many environmental problems, the disposal of pads also a great concern as it can block toilets in hospitals, hotels and hostels. Many children suffer from unreasonable worry and anxiety during their period. The Cup of Life project is being implemented with the aim of creating strong awareness on this issue. For the success of the project, an organising committee has be formed with Industry Minister P. Rajeeve and Leader of Opposition V.D Satheesan as chief patrons.
Voluntary organizations and colleges interested in setting up a venue as part of the implementation of the scheme should register at phone No 04843503177.
Muthoot Finance, which has been doing remarkable work in philanthropy and service work for decades, was highly praised for its volunteer work during the floods and Covid-19 pandemic. Alexander George Muthoot, Managing Director of Muthoot Finance said that he is happy and proud to strengthen the activities in the field of women empowerment in addition to voluntary and service activities.
Hibi Eden MP, Ernakulam District Collector Jafar Malik, Muthoot Finance MD Alexander George Muthoot, Dy. MD George M George, Cup of Life Organizing Committee General Convener Dr. Junaid Rahman, IMA Kochi President Dr. Maria Varghese,IMA kochi Vice President Dr. M. M. Haneesh, also participated in the press conference.