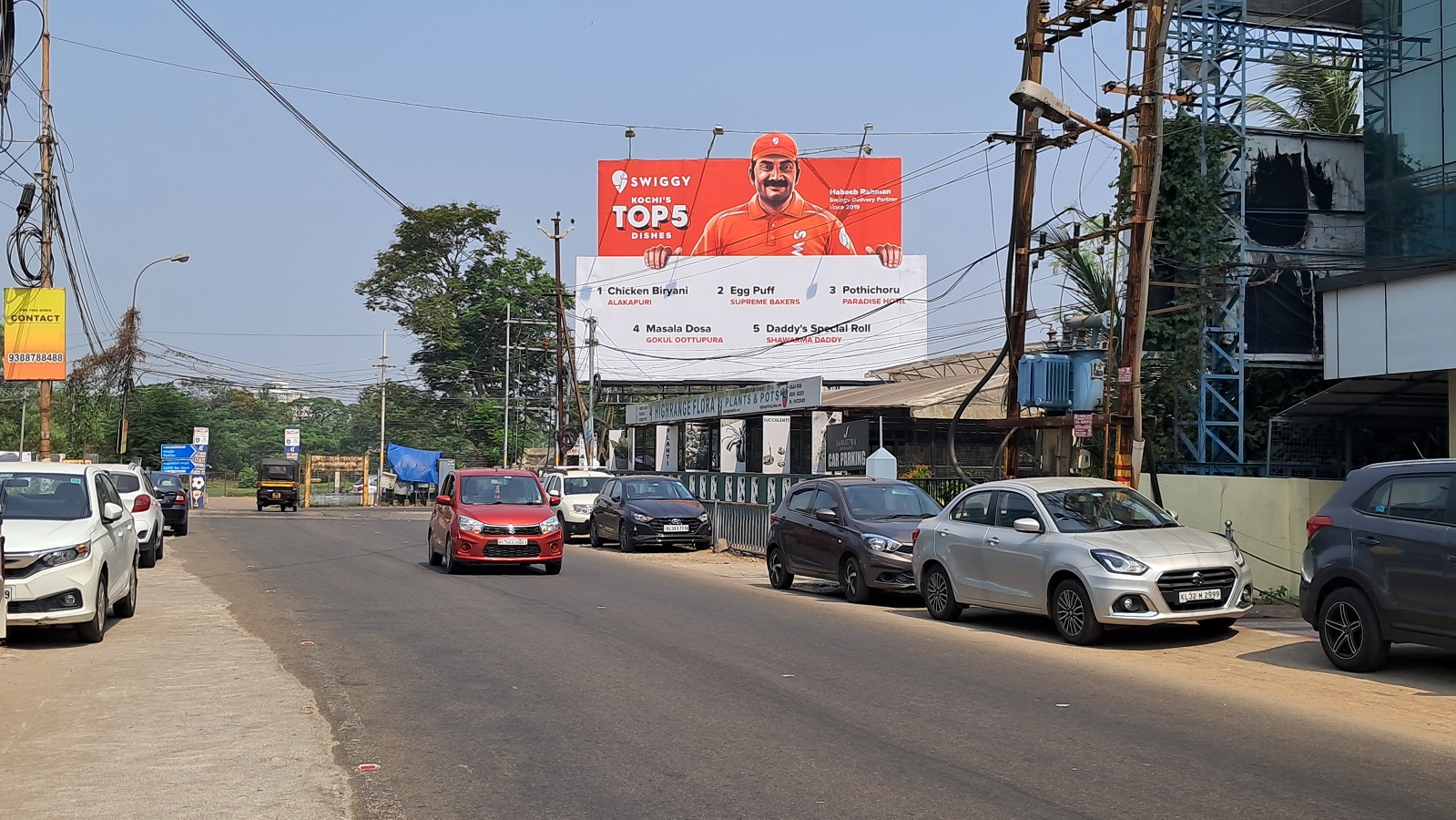 KOCHI:
Swiggy, India's leading on-demand convenience platform, is taking the celebration of Kochi's love for food to the next level with a series of billboards that features the most ordered dishes, proudly showcased by Swiggy's top delivery partners from the city. Installed throughout the city, the innovative billboards highlight some of the most prominent order trends of the city. From mouth-watering Parotta to delectable biryanis, the billboards showcase not only the top dishes but also the best restaurants to try them out.
Swiggy billboard of delivery partner Habeeb Rahman presenting Kochi's top 5 dishes In addition to promoting Kochi's culinary culture, Swiggy is also recognizing and celebrating one of the hero delivery partners from the city Mr. Habeeb Rahman. Habeeb, who was working as a daily wage
worker in Calicut, moved to Kochi in 2019 in hunt for better working opportunities. This is when he joined Swiggy as a delivery executive and has been working with them since then. With Swiggy's help, he could secure a steady source of income for his family and has even a built a house for them. Since 2019, become an integral part of the team and is Swiggy's top delivery partner in Kochi having done more than 5132 orders in the last year.
"Swiggy has been like family to me and has always supported me, especially during the Covid-19 pandemic. Thanks to Swiggy, I was able to avail the Swiggy Insurance benefits for me and my family during a medical emergency. Being a member of Swiggy's team fills me with pride, and makes me happy witness the satisfied expressions of customers as I deliver their favorite meals from their preferred restaurants in Kochi." Says Habeeb
One of the top performing restaurant partner, Renju, Marketing Manager of Chicking says, "Swiggy has been instrumental in boosting our number of orders and expanding reach to newer and neighboring localities. We appreciate their constant support and unwavering commitment to providing us and our prospective customers with the best possible experience."
The campaign is a testament to the company's commitment to promoting Indore's culinary culture and supporting its delivery partners in the city.