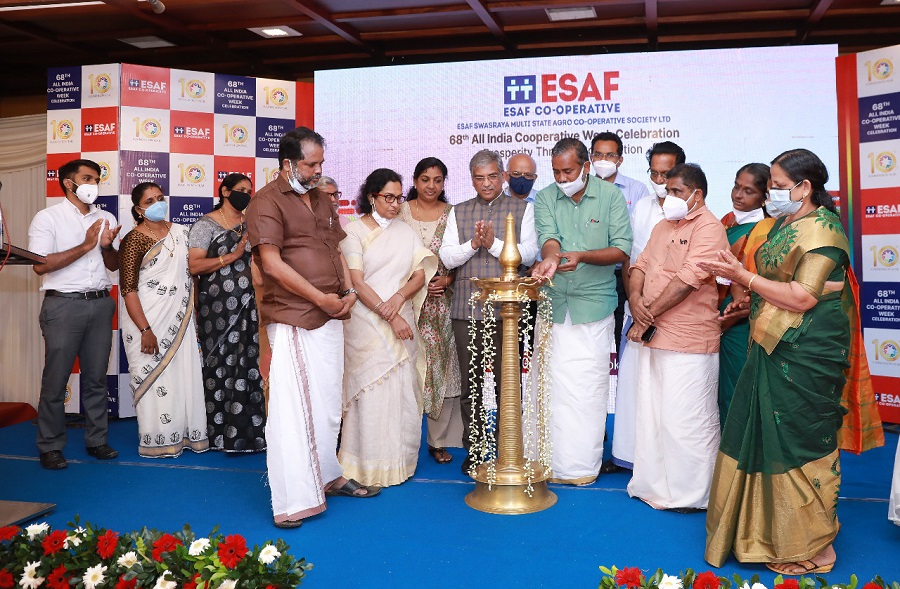 THRISSUR:
ESAF Swasraya Multi-State Agro Co-operative Society Limited, The first business correspondent of ESAF Small Finance Bank has crossed 10 years since its inception.
P. Prasad, Minister for Agriculture inaugurated the 10th Anniversary celebrations and the Closing Ceremony of 68th All India Cooperative Week Celebrations. Minister also inaugurated the launch of Bio Cedar Agri Input Marketing products and handed over keys to six families as part of the 100 house construction project named Snehaveedu, included in the post-flood service activities.
MLA P. Balachandran inaugurated the warehouse project and CEDAR food brand 'Crosso', and Darwin Box HR Software was inaugurated by Beena Murali, Corporation Councilor. K. Paul Thomas, MD and CEO, ESAF Bank, delivered the keynote address at the event. The program was chaired by Saleena George, Chairman, ESAF Agro Co-operative. ESAF Co-Founder Mereena Paul honored the team members who aided in the formation of the ESAF Co-operative Society. Kerala Bank Vice President M. K. Kannan, ESAF Agro Co-operative Chief Financial Officer Sunil Namboothiri, and Compliance Officer V. K. Jayaraj also spoke at the event held at Thrissur.
T.K. Nandakumar (IAS), Retd., Agriculture Secretary led the seminar on "Financial Inclusion, Digitization and Social Media through Co-operative Societies" at the Closing Ceremony of the 68th All India Co-operative Week. Thalappilly Agricultural Development Bank President Joseph Chalissery and Thrissur District Co-operative Hospital President T. K. Porinchu, Bhaskaran Adamkavil, Regional Director Milma, Ernakulam, Joy Francis, Chairman, Thrissur Circle Co-operative Union, V. L Paul, Chief Executive Officer, ESAF Agro Co-operative and Joji Koshy Varghese, Head of Agri Inputs and Special Projects also spoke on the occasion.