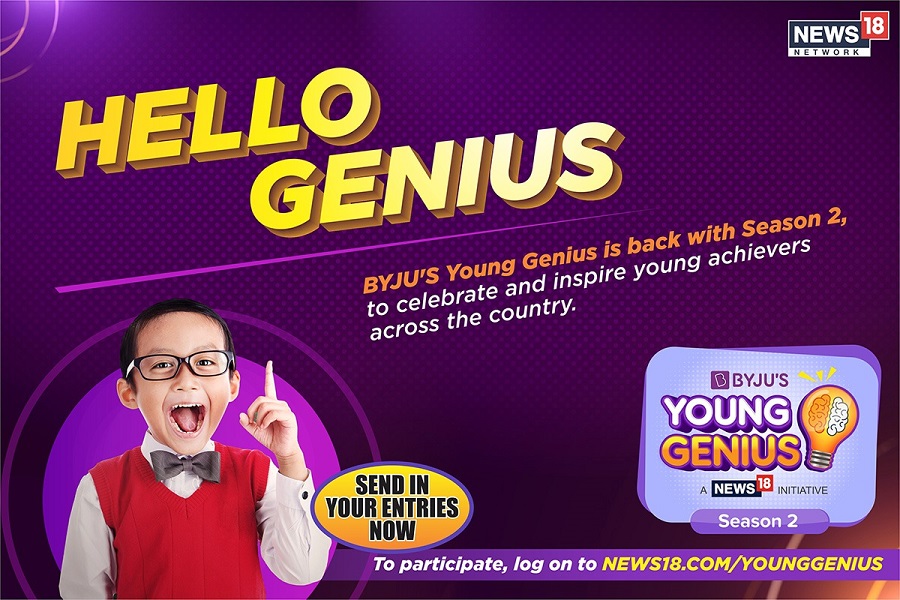 MUMBAI:
BYJU'S Young Genius, a News18 Network initiative, showcases and recognizes inspiring journeys and achievements of child prodigies with exceptional talent in academics, arts, science, sports, music, and other creative fields.
After receiving overwhelming audience and participant response for the successful first edition which aired between January and March 2021, News18 Network today announces the second edition of BYJU'S Young Genius with a promise to make it bigger and better. Children who are desirous of participating in the show can register on https://www.news18.com/younggenius/ or download the BYJU'S app and register on the BYJU'S Young Genius section.
The positive and encouraging narrative of the show hosted by Senior Network18 Editor and Anchor Anand Narasimhan, makes for a perfect family TV watching experience, especially during these unprecedented times. The show comprises 11 episodes, honoring around 20 young geniuses in the age group of 6 to 15 from different fields such as performing arts, academics, technology, and sports, to name a few.
Each episode will make for an exciting viewing experience as the young geniuses will also be joined by some of India's most celebrated Indian personalities who will not only be seen cherishing the remarkable accomplishments of the child prodigies but also reminisce their own path to glory. The previous edition saw some of the most revered Indian personalities from different fields including Virender Sehwag, P V Sindhu, Mohanlal, Sonu Sood, Sonam Wangchuk, Rajkumar Rao, Shankar Mahadevan and Leander Paes, among others.