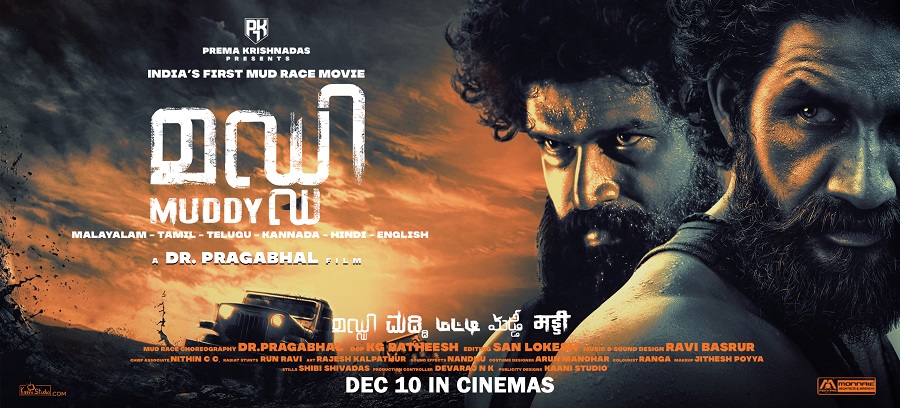 KOCHI:
A pan Indian film without the presence of superstars, Muddy, the first Indian 4X4 mud race thriller, started screening at theatres. Muddy has become a mass film with a strong story base and a unique visual and sound experience.Muddy has been released in six languages on Friday (December 10, 2021). KGF fame music director Ravi Basrur gives a musical treat for his first Malayalam film.Dr. Pragabhal is the director.
A full time 4X4 mud race film is produced for the first time in India. This is also the first film to be released in six languages including English, without superstars.
The technicians behind the film are all proved their skills in Indian cinema. Apart from Ravi Basrur, Bollywood cameraman K G Rathish and Rakshasan fame editor San Lokesh are part of the team.
The choreography design for Muddy was the biggest challenge as there were no other films to refer Muddy race. It took five years of research to start the film.
The characters were given training in mud racing for two years and national level real mud racers too are part of the film. Muddy is a multilingual film and it will be released in 6 languages including Malayalam, Tamil, Telugu, Kannada, Hindi and English.
Prema Krishnadas is producing the film under the banner PK 7. Newcomers Yuvan Krishna, Ridhaan Krishna, Anusha Sooraj and Amith Sivadas Nair are in the lead roles. Hareesh Peradi, I M Vijayan, Ranji Panicker, Sunil Sugatha, Shobha Mohan and Guinness Manoj are also appearing in the film. PR campaign is by PR 360.