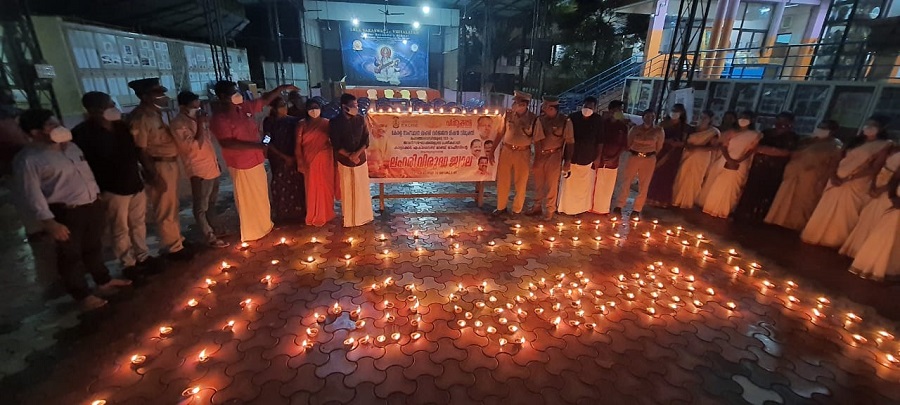 THIRUVANANTHAPURAM:
Thousands joined a candle light vigil and pledged to work ceaselessly for the eradication of the scourge of addictive drugs and alcohol abuse on Saturday as part of the month-long intensive anti-drug awareness campaign launched by the Vimukthi Mission of the Excise Department.
Led by legislators, people converged in large numbers in assembly constituencies across the state and lit 152 candles to mark the 152nd birth anniversary of the Father of the Nation, who had passionately campaigned against drug and alcoholic abuse during the freedom struggle.
Excise and Local Self Governments Minister M V Govindan Master had inaugurated the campaign on the Gandhi Jayanti day on October 2.
Kerala Assembly Speaker M B Rajesh lighted the lamp at a function held at Palakkad while Leader of the Opposition, VD Satheesan inaugurated the ceremony at Paravoor. Industries Minister P Rajeeve inaugurated the programme held at Kalamassery, while Agriculture Minister P Prasad led the ceremony in Alappuzha. Power Minister K Krishnankutty lit the lamp at Chittoor, while Sport Minister V Abdurahiman led the ceremony in Tanur.
Representatives of local self government institutions, Excise Department officials, civil society members, residential association representatives and office-bearers of youth and women outfits participated in the ceremonies across the state.
As part of the campaign, a series of awareness programmes including online sessions, bicycle rallies and quiz competitions were held in the length and breadth of the state with the support of the local communities. Over 1400 recognized residential associations had lent active support to the drive.
While launching the campaign, the Minister had announced that Vimukthi Clubs will be formed in all educational institutions to step up awareness among students against the menace of drug addiction.
The Vimukthi Mission had also started a programme, called Unarvu, to insulate school children from drugs and other intoxicants by channelizing their energies to creative pursuits of art and sport, besides helping them improve academic performance.