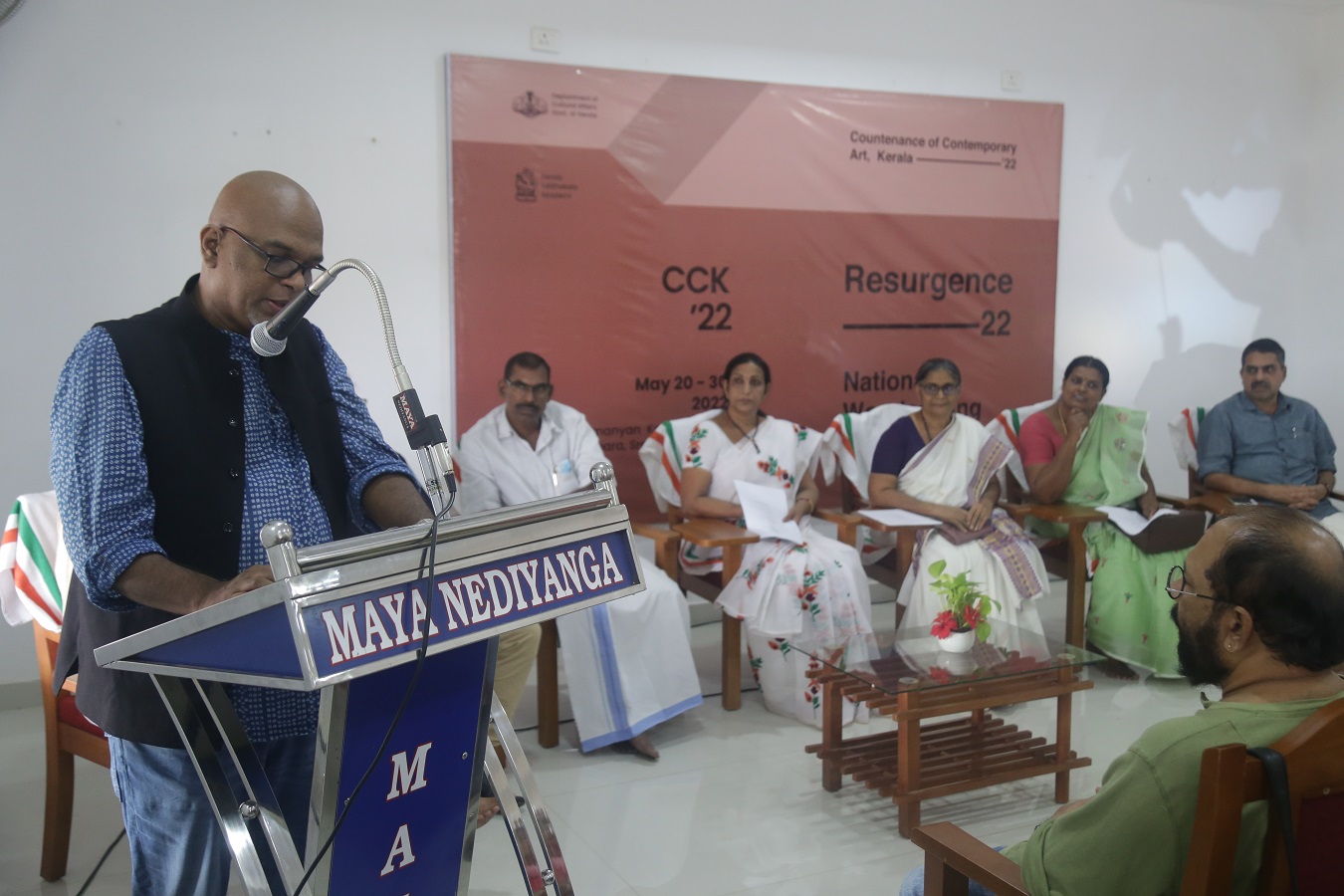 KANNUR:
Kerala's rich woodwork which adds to the state's heritage of architectural splendor merits wider discussions and analyses, Culture Minister Saji Cheriyan said today.
"If our state stands out from the rest of the country when it comes to sculptures, it is owing to the exquisite woodwork we have had for centuries," he noted after inaugurating a National Woodcarving Camp by Kerala Lalithakala Akademi (KLA) in this northern district.
Noting that regions outside Kerala largely use stones for sculptures, the Minister said the state's traditional woodwork enhances the beauty of its places of worship and residential abodes called nalukettu and ettukettu in local parlance. "They stand as fine examples of our age-old heritage," he said in an online video address, kicking off the May 20-29 'Resurgence-22' at KGS Kalagramam in scenic Kakkannanpara village off Sreekandapuram.
The camp is part of the government's second 100-Day Programme that concluded today, rolling out 1,557 projects as conceived by Chief Minister Pinarayi Vijayan and implemented since February 10 this year.
'Resurgence 22', which is being attended by 19 artists who are to get expert guidance from conventional craftspeople, is a give-and-take exercise, KLA Chairperson Shri Murali Cheeroth said. "With creative drills of this kind, we aim to give contemporary art a new direction," he noted in his welcome address at the session presided over by Sreekandapuram Municipal Chairperson Dr K.V. Philomina.
The Akademi head said KLA, with this camp, aims to further reach out to visual arts to the public. "These are efforts to revive our art practices and approach towards art. They would contribute a lot to the inclusivity in art and the creative landscape of Kerala," he added.
KLA Vice-Chairman Aby N. Joseph handed over the paraphernalia to the artists at the end of the opening session, where Akademi Secretary N. Balamuralikrishnan proposed thanks.
Besides artists of senior, mid-level and young age-groups, Resurgence-22 features craftspeople, critics, educators, observers and students besides art enthusiasts.
The others at the session included Chengalayi village Panchayat President V.P. Mohan, Sreekandapuram Municipal Development Standing Committee Chairperson Josepheena Teacher and Ward Councilor Mini Sajeevan.
The artists attending the woodcarving workshop are Anto George, Balagopal Bhethoor, Gigi Scaria, Helna Merin Joseph, Madhu K.V., Merlin Moly, Pradeep Kambathali, Premkumar P.L., Rajasekharan Nair, Rajesh Ram, Rajesh Thachan, Ranjumol C., Rajani S.R., Sunil Kuttan, Sooraj V.S., Sunil Thiruvaniyur, Sushanthakumar Maharana, Tensing Joseph and Vaisakh K.
'Resurgence 22' comes as part of the ongoing 60th year celebrations of the KLA as an autonomous institution that promotes the region's visual arts heritage.
The 1962-founded KLA is headquartered in Thrissur, 210 km south of this city. The Kalagramam is named after Padma Vibhushan-winning artist K.G. Subramanyan (1924-2016) who was a native of Kuthuparamba in this belt of Malabar and went on to gain an iconic status in Baroda's MS University as well as Santiniketan in West Bengal.