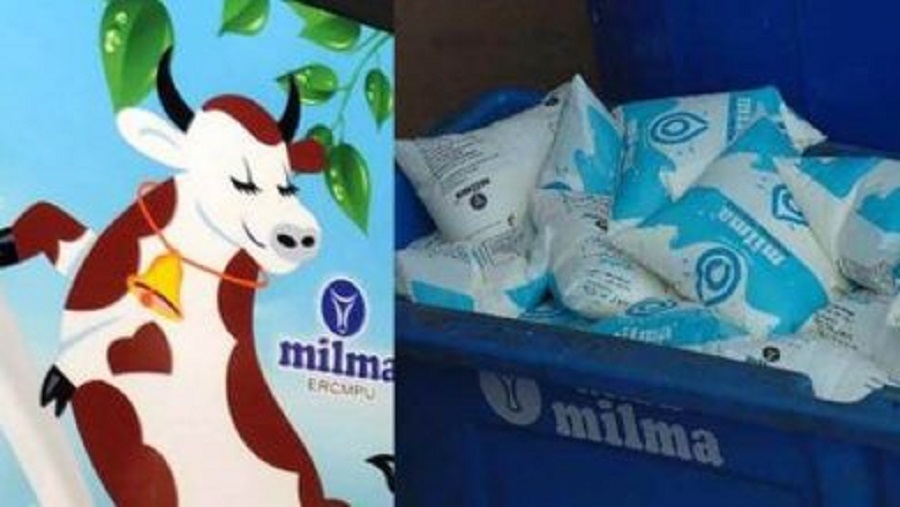 THIRUVANANTHAPURAM:
Bucking the grim pandemic-induced crisis in the last two years, Kerala's cooperative dairy major Milma recorded a 25 per cent increase in its turnover in 2021-22.
Significantly, the higher turnover has been achieved by Milma in the last two financial years without cutting down the procurement price of milk from farmers and without increasing the selling price. Also, a slew of special incentives and subsidies were passed on to nearly one million dairy farmers affiliated to the multi-tier co-operative network.
In 2021-22, Kerala Cooperative Milk Marketing Federation (KCMMF), a household name in the state known by the brand Milma, increased its turnover (provisional) to Rs 4,300 crore from Rs 3,388 crore the previous year. In 2019-20, Milma's turnover stood at Rs 3,210 crore.
"The last two years have been really tough with the Covid-19 pandemic triggering an all- round crisis. But Milma has been able to come through unscathed, living up to the unflinching faith reposed on the network by thousands of farmers and loyal customers", said Milma Chairman KS Mani.
Milma, along with its three Regional Unions, has achieved an all-time increase in procurement, distribution, turnover and profit in the last two years despite severe constraints imposed by the pandemic, he said.
Milma's three Regional Unions and over 3,300 primary societies under them have contributed significantly in steering the state's dairy sector through multiple hurdles thrown up by the pandemic by adopting robust strategies and a farmer-centric approach, Mani said.
Milma stands out in the country's dairy sector as it passes on to farmers 83 per cent of its revenue as price for milk, which is the highest in India, he said.
Despite crippling disruptions and gripping economic recession spawned by the pandemic, Milma has stayed rock solid behind the farmers, besides playing a central role in helping the Government realise its target of attaining self-sufficiency in milk production, Mani added.
The procurement of milk by Milma went up by 12.52 per cent to 15,19,737 litres per day in 2021-22 from 13,50,656 litres per day the previous year. The daily sale of milk also increased to 14,29,654 litres a day during the year from 13,09,868 per day the previous year.
These figures reflect that the disruptions in collection and supply of milk in the initial phase of the pandemic, which saw lockdowns and logistical issues, have been quickly overcome by Milma. The timely intervention and support of the government also saved the cooperative dairy sector from plunging into a deeper crisis.
The three Regional Unions of Milma had implemented various welfare schemes and relief packages for farmers and their family members hit hard by the pandemic and floods. Veterinary care facilities were also extended during this period.
In 2021-22, KCMMF had extended to farmers Rs 7.95 crore worth of benefits by way of cattle feed subsidy and discounts, besides for the first time providing additional milk price to the tune of Rs 4.2 crore to farmers at the rate of rupee one on each litre of milk procured from them in March 2022.
Since unbridled hike in cattle feed price in the open market is a critical issue faced by dairy farmers, Milma has substantially subsidized its premium brands of cattle feed as a market intervention strategy, which helped to reduce the financial burden on farmers.
Milma is continuing such schemes despite the economic commitment it entails considering the steep increase in price of raw material of cattle feed. In the last two years, Milma had distributed 1,16,878 bags of cattle feed per year at a discount rate of Rs. 400 per bag under the Government's Covid Relief Scheme.
The value-addition process to utilize the surplus milk, especially from the Malabar region, gained pace during this period with the government clearing the proposal to set up a milk powder factory at Moorkanad in Malappuram, at a cost of Rs 53.93 crore. Of this, the state government has sanctioned Rs. 15 crore under the plan fund while Rs 32.72 crore will be available from the Rural Infrastructure Development Fund of NABARD. The Malabar Union has earmarked Rs 6.21 crore as its share in the project.
The plans to step up the processing, production and storage capacity of Milma have also gained pace under the initiative of the KCMMF and its regional unions. The work on the Rs 8-crore NABL-accredited laboratory at Ernakulam, utilizing the NPDD fund, is nearing completion.
The Regional Unions of Milma have also come out with special incentives and disaster-relief packages for farmers. They have also launched dairy development projects and improved veterinary facilities for farmers, besides announcing various welfare schemes for farmers and their family members.
As additional milk price, Thiruvananthapuram Regional Union has provided to farmers Rs 6.25 crore, Ernakulam Union Rs 3 crore and the Malabar Union Rs 4.05 crore this year.
Though the onset of severe summer poses constraints in meeting the demand for milk, Milma is firm to fulfil its commitment to consumers by maintaining adequate supply by sourcing milk at a higher price from other states like Maharashtra.
Milma has also expanded its market reach by forging tie-ups with institutions like KTDC, KSRTC, Supplyco, Kudumbashree, Devaswom Boards and various government departments.