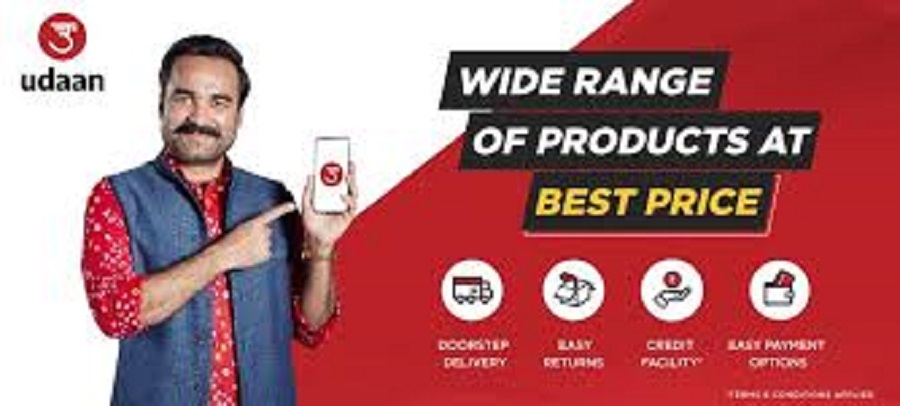 THIRUVANANTHAPURAM:
The Food business of udaan, India's largest business-to-business (B2B) e-commerce platform, today announced – 'Mega Bharat Sale' – India's biggest e-B2B sale event for Kirana shops and small retailers across the country. The largest e-B2B sale on the udaan platform will provide small retailers and Kirana shop owners a unique opportunity to enjoy incredible savings across a wide selection of quality food products with over 10,000 SKUs (Stock-Keeping Units) from small and large fast-moving consumer goods (FMCG) brands.
The sale, which will run from August 9 till August 14, will also offer attractive discounts on brands such as Jayabhumi, Captain Harvest and Annabhumi which are exclusively available on the platform. udaan's Food Business – comprising FMCG, staples, and Fresh products – offers over 20,000 products across grocery, beverages, cereals, pulses, spices, edible oils, home & personal care, fresh and dairy categories.
As part of the 'Mega Bharat Sale', retailers will get various options to enjoy huge savings through attractive rewards and benefits – ranging from 'Big Discounts' to 'Flash Sales' and 'Assured Instant Cash Discounts' – on all Food and FMCG products. This national level mega sale will benefit over 5 lakhs small retailers especially those from Tier 2, 3 cities / towns. The 'Mega Bharat Sale' will also provide an opportunity to small manufacturers of Bharat listed on the udaan platform to sell their products during this mega sale.
In addition to discounts and savings, retailers will have the option to avail 'Buy 1 Get 1' offers on a wide range of food products. As an added benefit, retailers will also have the option of hassle-free ordering experience to place multiple orders on a single day to stock fresh inventory without any additional cost.
Vivek Gupta, Head – Food & FMCG Business, udaan, said, "We are delighted to announce 'Mega Bharat Sale' on the udaan platform for the benefit of kirana stores and small retailers of the country. This initiative is a part of our endeavour to provide value and empower small businesses of Bharat who have shown commendable resilience and continued to serve customers during the pandemic. We are confident that this unique and customised program to support our retailer and manufacturer partners, whose businesses were impacted during the pandemic, will help them enjoy big savings, offer value to their end customers, expand their business while increasing their profitability."
udaan has invested more than Rs 4000 crores in the past 12-18 months across different pillars of business – technology, supply chain, category, credit, people, compliance – to accelerate and strengthen capabilities to serve its customers better. The company has also undertaken various initiatives to enhance overall customer experience by leveraging deep customer analytics as well as improving the speed of the app.
udaan is a one stop solution for all business requirements in the b2b space.
It connects millions of MSMEs throughout India and help them grow their business through the adoption of technology. udaan enables shopkeepers, kirana, restaurants, street vendors, chemists, offices, small factories, contractors etc. to source from a large selection of high-quality products at attractive prices from sellers, brands and manufacturers across the country with the convenience of eCommerce. udaan also provides marketing & sales support and facilitates efficient, transparent & convenient transactions.
The platform's SaaS offerings such as the app-based pricing system gives better pricing control, the product listing advertisements and in-app advertisements encourages manufacturers to reach their targeted, specific, and ready-to-purchase retailers on the platform. It has built inclusive tech tools for Bharat, specially catering to the needs of brands, retailers & manufacturers providing them a level playing field to conduct and grow their business.