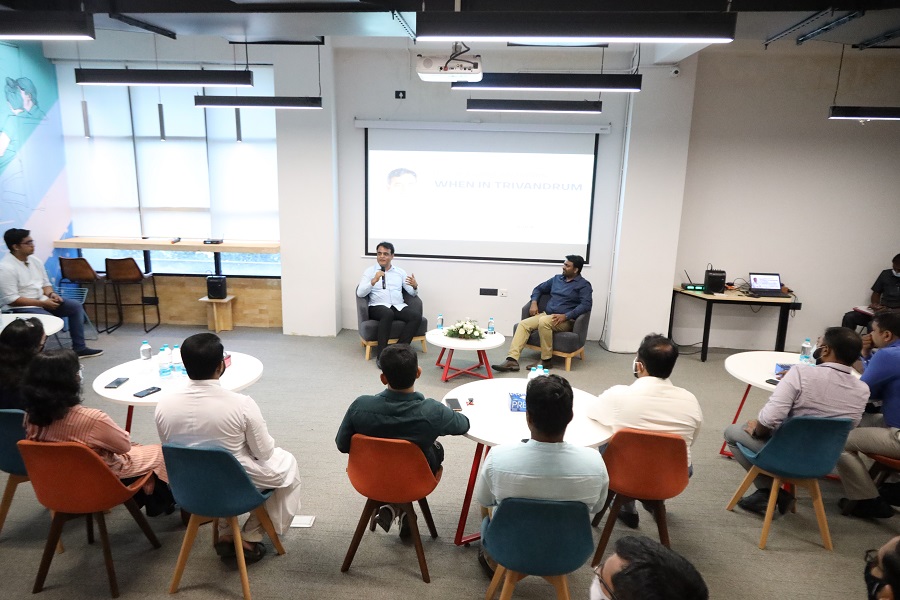 THIRUVANANTHAPURAM:
'When in Trivandrum' an interactive event conducted by Bloombloom was held in B-hub in Nalanchira, Trivandrum. The summit was headed by Dr. C.N Ashwath Narayan, the Deputy Chief Minister of Karnataka and the Minister of Higher Education, Information Technology, Biotechnology, Science and Technology and that of Skill Development, Entrepreneurship and Livelihood. The event maps renowned personalities from across various sectors around the globe and initiates insightful conversations on progress, collaboration, development and the future. The congregation themed 'Collaboration Beyond Borders' was sought to bring forward and converge the minds of foresighted partners of the future.
The summit also had R Abhilash, Founder of B-HUB & Bloombloom, George Kaimalayil, the Manager of CCCIET, Adv. Thomas Nelliyara, Syndicate Member of Bangalore Central University, Robin Alex Panicker, Investor & Founder of Finotes, Kesav Komath, CEO of B-HUB, Amith Sasi, Vice President of Bloombloom and Jongee Chandy, Asst. Vice President of Bloombloom as its speakers.
During the discussion, Dr. Ashwath Narayan mentioned that Karnataka is willing to collaborate closely with the Kerala ecosystem as collaboration between ecosystems is vital for global progress. In his appreciation for the change-makers, he mentioned how such futuristic talents are assets to the entire country, and added that the government entrusts the start-ups of the country to play a big role in the development of India in its vision of the 5T Indian economy. He strongly agreed and supported the need to promote children to learn from communities, interactions, peer learning, and collaboration, in the hopes of guiding them to transform into rounded personalities. Nevertheless, he establishes offline learning never to vanish off from the face of education but insists that education has to be blended, with digital content complementing it.
The talk also casted light on the New Education Policy that the Minister believes is going to transform talent building in the country. He also appreciated and congratulated B-HUB for its blended learning system, connecting education as the core of innovations and ecosystem building and invited B-HUB to facilitate Karnataka's plan to set up similar models around university campuses.