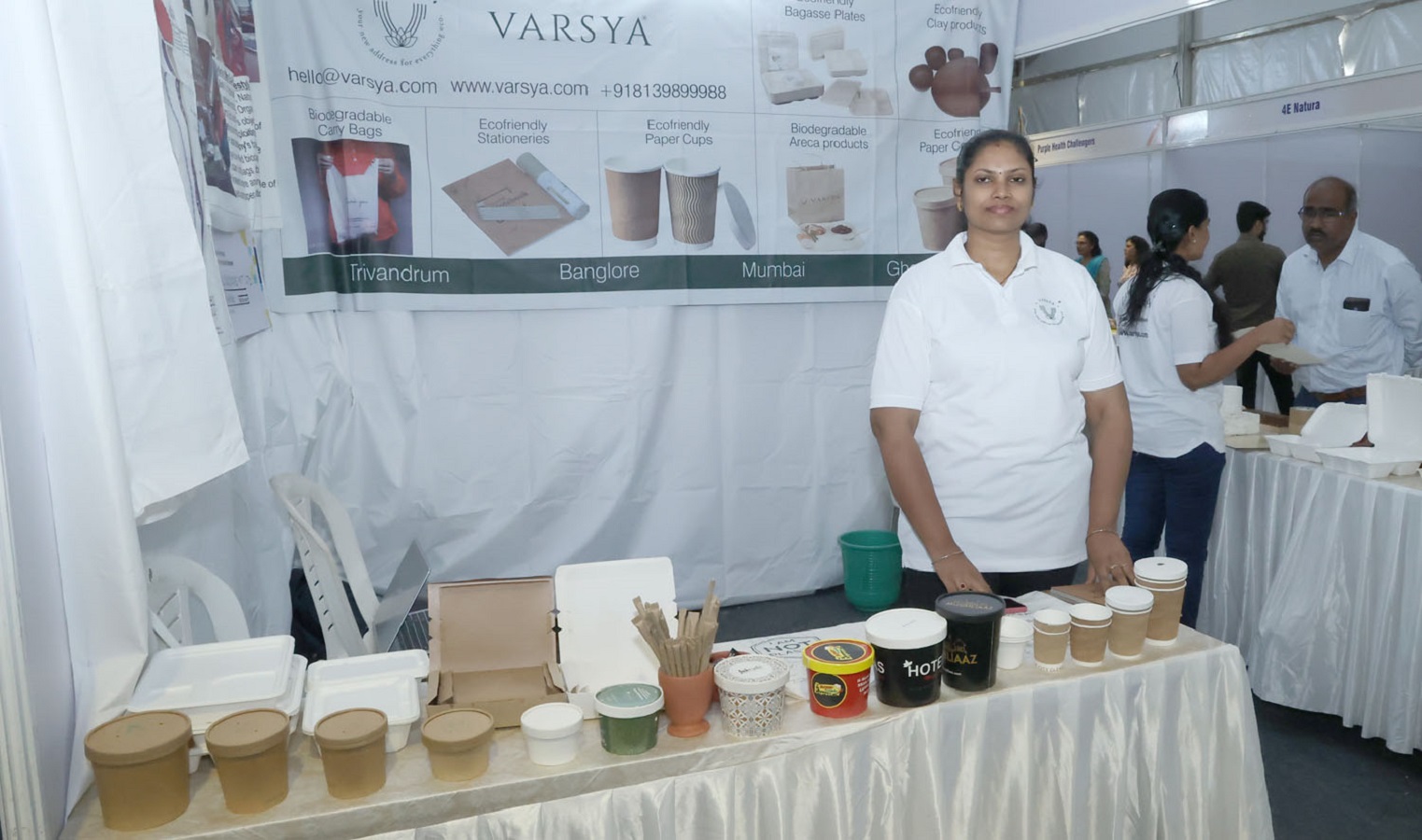 THIRUVANANTHAPURAM:
Thanks to the technology support of CSIR-NIIST, a startup led by a Gulf-returnee couple has come out with paper cups with plant-based edible oil as coating to phase out plastic-coated cups, whose prolific use is a threat to environment.
Varsya Eco Solutions Pvt Ltd., founded by Nitheesh Sundaresan and Anu Asok, got the technology transfer from CSIR-National Institute for Interdisciplinary Science and Technology (CSIR-NIIST), Thiruvananthapuram, a constituent laboratory of Council of Scientific and Industrial Research (CSIR), Ministry of Science and Technology, Govt of India, in March 2022.
The startup has come with its eco-friendly products at the Millet Exhibition being held as part of the ongoing 'One Week One Lab (OWOL)' programme of CSIR-NIIST at its campus at Pappanamcode, here. Entry for public is free to the expo from 10 am to 7 pm.
Hit by the pandemic, Nitheesh and Anu returned from the Middle East in May 2020 and set up their startup in June 2020.
Recalling the situation that led them to venture into eco-friendly biodegradable products, Anu Asok said take-away containers were a big issue during the Covid-19 period and they made bagasse containers using sugarcane waste to address the shortage of containers.
They also made products alternative to plastics like cassava bags and books, bags, pens and pencils from recycled paper waste.
According to Anu, plastic coating in paper cups was a challenge for them when they planned for export. "We discussed it with various research institutes in the country and finally we got a remedy from CSIR-NIIST. Our relationship started with a telephone call," she said.
Anu, who alone led her team to the expo, said the scientists and the officials at the Business Development Department extended a good support and help to their idea when they exchanged the inputs.
"The plastic coating in paper cups is a big issue. Now, a paper coating barrier has been made using plant-based edible oil to overcome the challenge of plastic coating. The technology transfer was held in March 2022 and we are planning to launch the product in the market by April," she said.
Anu said since Varsya is a registered startup in Kerala Startup Mission (KSUM), about 90 percent of the amount they had spent for obtaining the technology from CSIR-NIIST was reimbursed by KSUM.
Meanwhile, the startup is also engaged in a second collaboration with CSIR-NIIST for an alternative for thermocol from agrowaste, mainly from the remnants of tender coconut.
The entrepreneur added that the prototype of the project is ready now.
Headquartered in state capital, Varsya has pan-India supply of eco-friendly biodegradable sustainable packaging materials with warehouses in Mumbai, Ghaziabad, and Bengaluru. Its other products are toxin-free cookware, utensils and compostable disposable tableware.
The Millet Expo also features various stalls by public and private institutions with riveting products from millets. Laddu made from wheat, pearl millet, ragi, multigrain, white corn and foxtail millet, besides rice varieties of pearl millet, proso millet, barnyard millet, finger millet and kodo millet, multi-millet noodles, wheat noodles and other products are the major attractions of the expo.