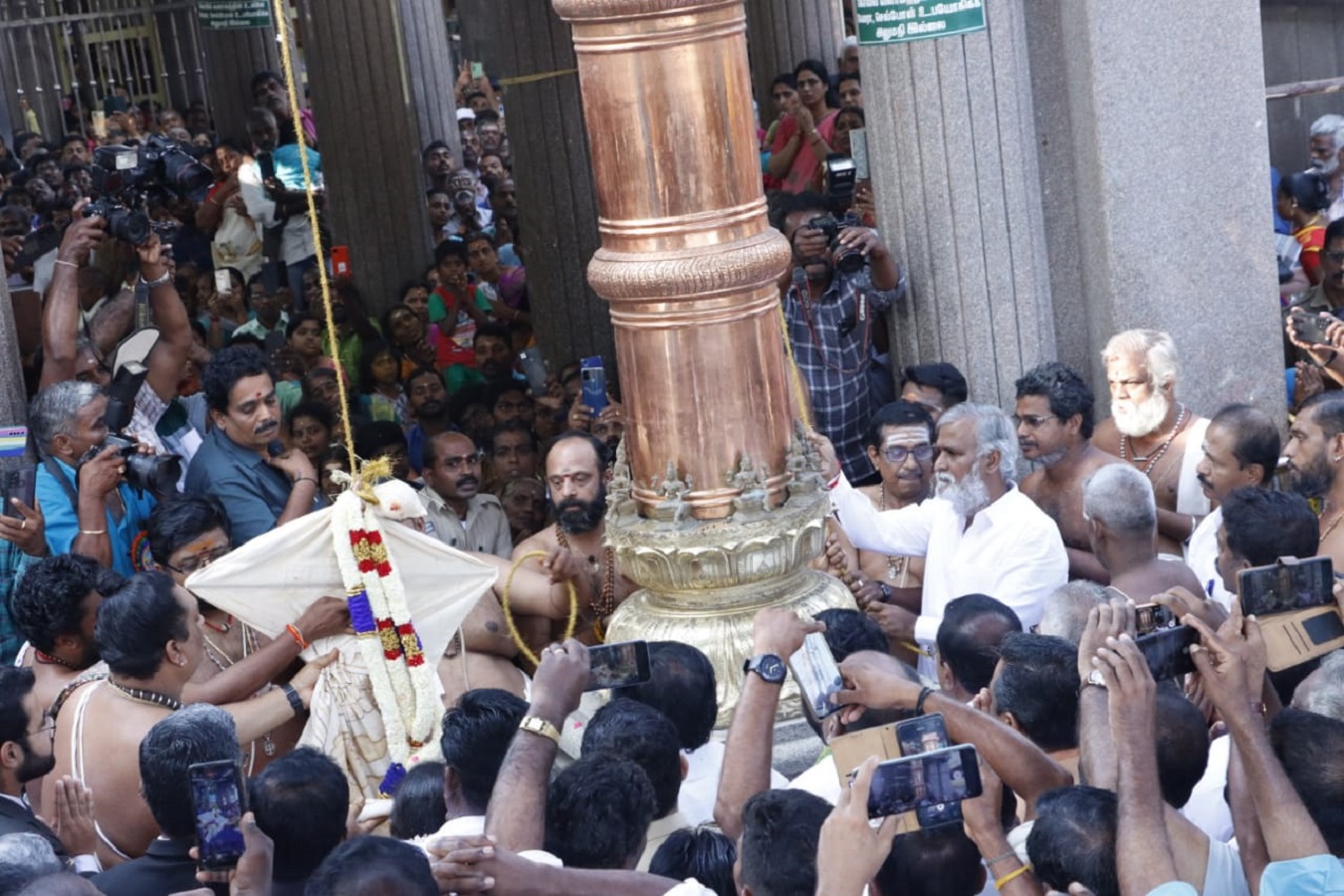 MONDAIKAD (TAMIL NADU):
The 10-day "Koda" festival at the famed Mondaikad Bhagavathy Amman Temple in this coastal town began today with the traditional flag-hoisting (Kodiyettu) ceremony in the presence of thousands of devotees, drawn mostly from the southern districts of Kerala and Tamil Nadu.
Amid the chanting of "Amme Saranam, Devi Saranam', the temple Tantri Edakkode Sankaranarayanan initiated the festival rituals in the morning.
Telangana Governor Dr. Tamilisai Soundararajan, Tamil Nadu Ministers P K Shekhar Babu and Mano Thangaraj, Vijay Vasanth, MP, J G Prince, Mla, District Collector P N Sridhar and District police chief D N Hari Kiran Prasad were present on the occasion.
The legendary Koda will take place on March 14 attended by lakhs of devotees from the various regions of Tamil Nadu and the southern parts of Kerala.
"Valiyapadukka," a major mid-night ritual of the festival, will be performed on March 10 and the procession of "Valiya Theevatti" on March 13, before the festival concludes with the "Odukku Pooja" at midnight on March 14.
There has been a steady flow of pilgrims, mostly women, to the temple in the past one month, setting the tempo for the annual festival.
Although devotees offer 'pongala' at the temple daily, on festival days their numbers swell to thousands. During the festival season, thousands of devotees reach Mondaikad from south Kerala. In view of this, Tamil Nadu government has made elaborate arrangements to regulate the flow of pilgrims.
Special inter-state bus services are operated between Thiruvananthapuram and Mondaikad by the Kerala State Road Transport Corporation (KSRTC) and Tamil Nadu State Transport Corporation.
The Tamil Nadu police has deployed 750 special personnel and a contingent of Marine Police for security and crowd management. Ten watchtowers have been installed around the temple, including the coastal stretches close to the shrine.
The Mondaikad Devi Temple is situated on the Arabian sea coast near Colachel of the erstwhile Travancore princely state. Despite being in Tamil Nadu's Kanniyakumari district, the temple and its festivals are run as per the rituals and traditions followed in Kerala. It was in 1803 that the former ruler of Travancore took over the administration of the temple. The temple is now administered by Kanniyakumari Devaswom Board.
Meanwhile, the 86th annual Hindu Maha Sammelan organised by the Devaswom Board and Haindava (Hindu) Seva Sangham along the festival commenced on Sunday. Dr. Tamilisai Soundararajan inaugurated the meet by lighting the traditional lamp. A series of religious and cultural programmes and Hindu conventions are held on all the ten days.