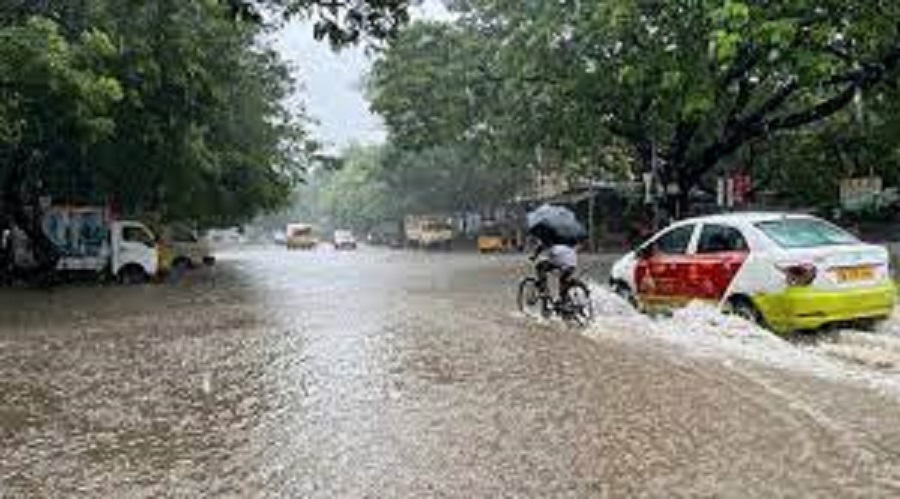 SEOUL:
Dozens of flights and ferry services were grounded in South Korea on Wednesday ahead of a tropical storm that has dumped heavy rain on Japan 's southwestern islands for more than a week.
Khanun 's heavy rains and winds were expected to arrive in South Korea 's southern and eastern regions Wednesday afternoon, South Korea 's weather agency said.
It is expected to reach the southern resort island of Jeju hours later and then make landfall near the mainland port of Tongyeong Thursday morning.
The agency says Khanun could have a punishing impact as it will likely slice through the centre of the country over several hours, with the storm's eye brushing the capital city of Seoul , while packing winds blowing at 90 to 154 kph (56 to 97 mph).
The storm is expected to dump 10 to 40 centimetres (4 to 16 inches) of rain in the country's southern and central regions and as much as 60 centimetres (24 inches) in the country's mountainous eastern regions through Friday. It will be weaker as it blows into North Korea early in the day.
The Korean Meteorological Administration measured Khanun at typhoon strength with maximum winds of 126 kph (78 mph) as of 2:10 pm Wednesday, as it passed through waters 300 kilometres (186 miles) southeast of Jeju while moving northward at a speed of 16 kph (10 mph).
Winds were growing stronger in Jeju as of 2:10 pm, blowing at a maximum 86 kph (53 mph) near Jeju City on the island's northern side while pouring 10 centimetres (3.9 inches) of rain near Seogwipo City on the island's southern side.
Winds were also picking up in some southern mainland areas, including the port city of Yeosu , where they were measured up to 86 kph (53 mph).
Japan measured Khanun as a severe tropical storm with sustained winds of 108 kph (67 mph) and higher gusts.
Warnings for stormy conditions, potential flooding and other risks were issued for the southwestern part of Japan 's southern island of Kyushu and nearby areas.
As a stronger typhoon last week, Khanun lashed Okinawa and other Japan ese islands, causing injuries and damage.
South Korea n President Yoon Suk Yeol has called for officials to be aggressive with disaster prevention measures and evacuations while stressing the perils posed by the storm, which comes just weeks after the country's central and southern regions were pounded by torrential rain that triggered flashfloods and landslides that killed at least 47 people.
The Korea Airport Corporation said at least 144 flights going in and out of Jeju were canceled as of 11 am as Khanun approached.
Ferry services connecting the island with mainland ports were also cancelled while authorities shut down at least 39 roads, 26 riverside parking lots and 613 hiking trails nationwide as part of broader preventive measures.
Khanun has forced South Korea to evacuate the World Scout Jamboree that had been taking place at a coastal campsite in the southwestern county of Buan .
Officials on Tuesday mobilised more than 1,000 buses to transfer 37,000 global scouts to university dormitories, government and corporate training centres and hotels in the capital Seoul and nearby areas.
While South Korea n organisers say the Jamboree will continue in the form of cultural events and activities, including a K-Pop concert in Seoul on Friday to go with the closing ceremony, all outdoor activities will be banned from Thursday until the storm passes.
Lee Sang-min , South Korea 's Minister of the Interior and Safety, said he's hopeful that the K-Pop concert will be held as planned at a Seoul soccer stadium on Friday evening, when Khanun would have already passed the region, but admitted that the storm could possibly complicate stage setups and other preparation work.
"If the typhoon still has an influence by then … and the conditions aren't ideal to support the proceeding of a concert, then we will have to consider cancelling foremost," Lee said during a briefing.