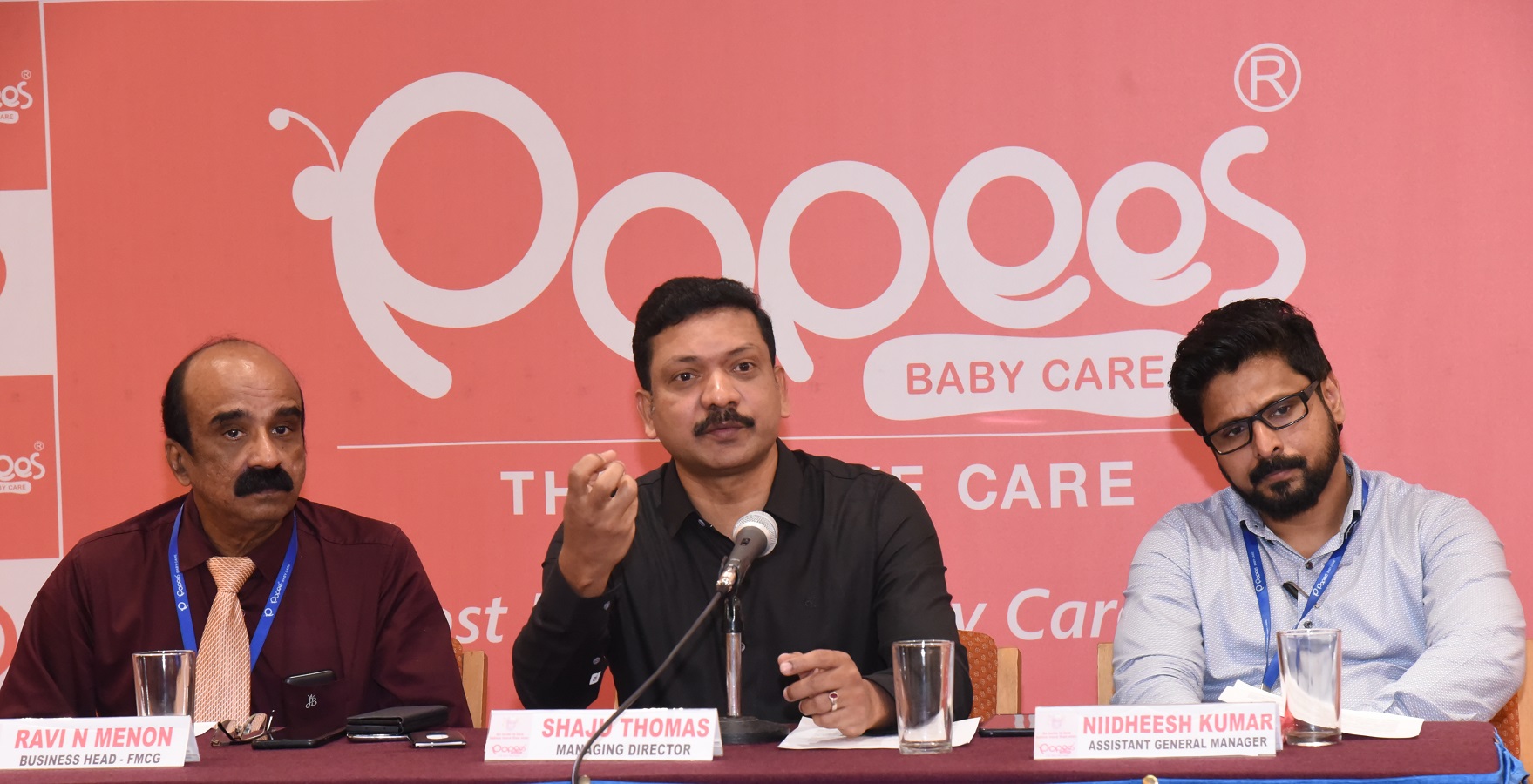 KOCHI:
Popees Baby Care, the leading baby care product manufacturer in the state launches its diaper product series this week. Diapers are being produced with the technical support of a Malaysian company. The diaper product range will be launched at LeMeridien, Kochi on 23rd of this month.
Popees diapers are organic. The company holds five patents in diaper manufacturing technology. The diapers are characterised by double leakage barrier and triple layer safety. Popees Baby Care's fully equipped diaper manufacturing factory is getting ready and the machinery and factory are designed by the Malaysian technology partner. It's going to be the first diaper manufacturing unit in South India. Popees diaper is a paper based product. Customers are assured of the same quality products anywhere in the world. The same export quality will be ensured for products in the domestic market as well.
In 2019, Popees Baby Care opened its first branded retail outlet in Kochi. Now the number of outlets has been increased to 50. The 50th showroom opened today (21st September, Wednesday) in Tirur. The target is to open 100 outlets by February 2023 and 500 outlets by 2025. More outlets will be opened in the south Indian states of Tamil Nadu, Karnataka, Andhra Pradesh and Telangana. Tamil Nadu's first showroom will be launched at Chennai Marina Mall next month. Currently there are 3 showrooms in Karnataka and more are ready to open.
Popees Baby Care's R&D department is constantly developing innovative products for the market.
The company launched India's first 'floating soap' that floats in the water. The company also introduced a soap with a PH value of 5.5.
The company has opened an office in Oxford in the UK. Three showrooms will be opened there soon. The operation will be extended to countries including the US. The company is targeting for the IPO in 2025. Preparations for the same are in Progress.
Started operations in 2003, Popees Baby Care started manufacturing products from its own factory in 2005. It started with the garments for new born babies below 2 years. Later the company diversified its product range. Many products were introduced for babies like soap, oil, powder, vibes etc. Popees Baby Care is an organic certified company. At present there are 2000 employees working with Popees. 500 new jobs will be created this financial year.
Popees Baby Care Managing Director Shaju Thomas, FMCG Business Head Ravi N Menon and AGM Nidheesh Kumar took part in the press conference held in Kochi.