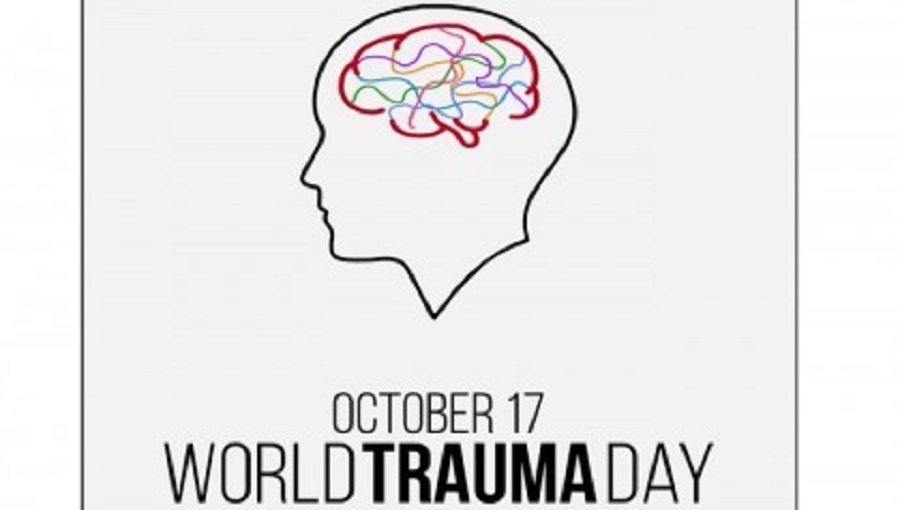 By
Dr Shameem K
Consultant and Coordinator
Emergency Medicine
KIMSHEALTH
17th October every year is observed as World Trauma Day. Commemoration of World Trauma Day emphasizes the importance of saving and protecting a life during the most critical moments and preparing and applying critical measures to deal with and avoid trauma fatalities. This day highlights the increasing rate of accidents and injuries causing death and disability in the population and the need to prevent them.
Traumatic injury accounts for about 20-30 million ED visits in India each year, and about 3-5 million people die each year because of injuries. By 2030, road traffic accidents are predicted to be 5th largest cause of death in the world. Trauma remains the leading cause of death among
children and adults under the age of 46 years, accounting for nearly half of all deaths in these age groups.
Trauma can be from any injury to the body. A person can sustain injury from many different modes such as road traffic accident, falls, burns, assault and the major cause of death following trauma are head injury, chest injury, major vessel injury etc. Road traffic accidents accounts for
the leading cause of death in India. The person can also sustain a temporary or permanent disability from trauma depending on the severity of the trauma.
Imparting awareness among the population about trauma and initial care to the people who sustained a trauma is important to decrease the mortality rates. WHO research has shown that at least 50 percent of road deaths could have been prevented with effective interference after
trauma has occurred, that is – Immediate pre-hospital care
Adequate knowledge of handling emergency situations. (Training of individuals)
Adequate number of ambulances equipped to receive such patients with trained personals.
Some points everyone needs to remember to avoid trauma :
Follow road safety rules while driving
Wearing helmets while riding a bike / scooter
Wearing seat belt while driving a four-wheeler
While driving long distance take short breaks to avoid fatigue.
Maintain a first aid safety kit at home/vehicle
Learn some basic life support procedures to help yourself and others when injured.
Keep an on eye of kids and elders at home to prevent falls.
Make sure children stay away from sharp objects, wires, harmful liquids which includes floor cleaners, bathroom cleaners, medications etc.
First Hour – the crucial period – the most important period during a trauma is the first hour, which is also called as the Golden Hour among the emergency physicians. The major cause of death following a trauma is from airway obstruction, blood loss from injuries and also spine injuries. The most important thing to do in the scene of accident is to protect the patient's airway, immobilize the spine of the patient and to apply pressure on any major bleeding site. If proper care is given to the patient in the first hour of trauma, it can increase his/her chance of survival.
 Maintaining the airway of the victim, removing any obstruction in the airway and initiation of early CPR (cardiopulmonary resuscitation) can increase the survival chances of the severely injured victims. In India, people are clueless about what to do when they face such a scenario. Lack of proper training in schools and colleges in Basic Life Support is an important factor and it can only be reduced by institutions and hospitals taking initiative in training the younger generation to handle such a situation.
 Trauma can cause injuries which can bleed profusely, and blood loss can be a major factor which can increase the mortality. Preventing blood loss is very much important by applying direct pressure over the injury.
 Another major reason for mortality and lifelong disability in trauma victims are damages to the spine due to trauma and secondary to improper handling of trauma victims. A victim should not be dragged from the scene of trauma or handled carelessly. Their spine should be given at most care starting with the neck to hip. It should be given importance to align the victims head and spine. If needed the head should be held for avoiding unnecessary movements of the neck.
Time taken to reach a hospital with the victim is also important. Always remember to take the victim to the nearest hospital for initial management and stabilization before he can be shifted to a tertiary care center. If an advanced ambulance with medics are available immediately seek
their help. When one faces such a scenario, it is difficult to stay calm and think what to do. But always remember, each one of you are heroes. Staying calm, acting wisely with a good plan of action can save a life.